Skip Navigation
Breast Cancer Resources
At The University of Kansas Cancer Center, we provide a range of support programs, resources and survivorship care for those with breast cancer. These programs are designed to help you and your loved ones address issues that may arise as a result of your cancer and treatment.
We integrate survivorship into your overall care. We ensure you have access to survivorship services, such as fertility preservation, cardio-oncology and lymphedema and weight management. We want you to know how to address known health risks and side effects that may arise from certain breast cancer treatments.
All breast cancer patients receive a treatment summary. This allows you and your doctors to know what medications or therapies you received during your treatment. We also provide you with a personalized survivorship care plan, which outlines clear steps for monitoring and maintaining your health after treatment ends.
Surviving cancer is a lifelong process and regular appointments are an important part of follow-up care. We believe you should receive the same high-quality, personalized and comprehensive care in survivorship that you receive during cancer treatment.
Helpful breast cancer websites
The University of Kansas Cancer Center does not assume responsibility for any of the information posted on these sites.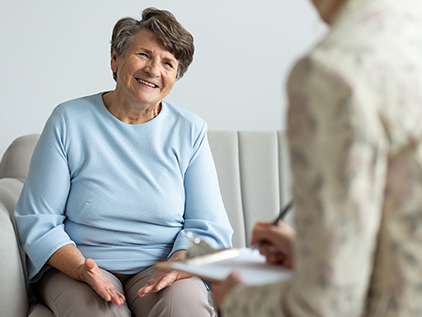 Treating cancer with more than medicine
Our approach to cancer care includes support services for the mind, body and spirit. Research shows this approach provides better outcomes.
Whole person care
Find a clinical trial.
Clinical trials give you an opportunity to try new therapies that might not otherwise be available. Search our clinical trials.
Related links