Skip Navigation
Head and Neck Cancer Treatment
Head and neck cancers include those found in the mouth, throat, sinuses, nasal cavity, larynx, salivary glands, thyroid and parathyroid (any part of the head and neck except the brain). Our nationally recognized head and neck cancer specialists are committed to providing every treatment option available. We can often effectively treat cancers others consider untreatable.
Head and neck cancer treatment options
Many advanced treatment options are available for head and neck cancers. Your cancer treatment team evaluates your cancer type and decides on the most appropriate treatment options available.
State-of-the-art radiotherapy treatment including proton therapy ̶ advanced chemotherapy agents and targeted therapies may be part of your treatment plan. We are one of the few cancer centers in the nation approved to offer the newest innovative drugs that target cancer without damaging surrounding healthy cells.
Our orthopedic and otolaryngology surgeons pioneered a surgical technique that uses free bone and soft tissue from the forearm. It has revolutionized reconstructive surgery for head and neck cancers. This surgery is performed more often at The University of Kansas Hospital than at any other hospital in the world.
Nonsurgical treatments
Radiation therapy
Radiation therapy uses high-dose X-rays to kill cancer cells and shrink tumors. It can be internal or external. You may receive radiation, like an X-ray, from outside the body. Or, your doctor may place radioactive material inside your body, near the cancer site. Radiation therapy is normally done Monday through Friday for as long as needed.
The University of Kansas Cancer Center also offers intensity modulated radiotherapy and stereotactic radiotherapy. These procedures minimize radiation damage to normal tissues around the tumor, especially sensitive tissues, such as the brainstem, spinal cord, eyes and optic nerves.
Proton therapy
Proton therapy is the leading-edge form of radiation treatment currently available. Proton therapy is a form of external beam radiation that uses energized protons to deliver radiation to a tumor. Proton therapy allows us to target and focus the radiation much more precisely, concentrating radiation in the tumor, where it will benefit the patient, and minimizing radiation to the surrounding healthy tissue. As a result, proton therapy may offer patients the possibility of fewer side effects and improved quality of life, both during and after treatment.
Chemotherapy
Chemotherapy uses medicines to destroy cancer cells. You may receive it by injection or through your veins. This is called systemic chemotherapy. You also can get it through your spinal column, an organ or a body cavity, such as the abdomen. This is called regional chemotherapy. The method of chemotherapy depends on the type and stage of the cancer.
Begin your cancer journey with a second opinion
We know the value of getting a second opinion on a cancer diagnosis. Let us help you navigate your cancer journey. Connect with one of our nurse navigators at 913-588-1227 or 844-323-1227 to schedule your cancer second opinion.
Learn more
Proton therapy in Kansas City
Receive lifesaving proton therapy treatment at the region's only proton center.
Learn more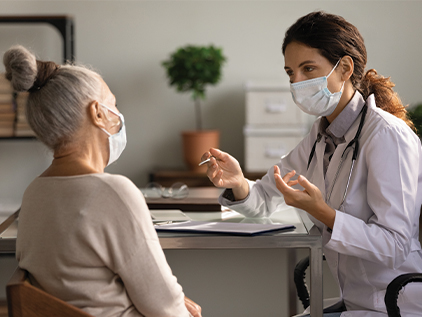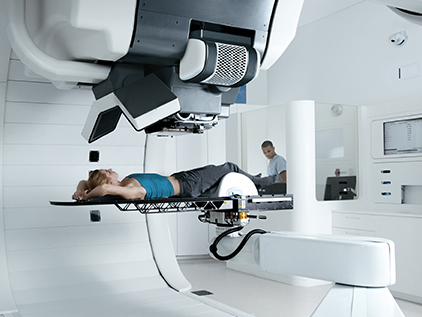 Surgical treatments
The University of Kansas Hospital has the only multidisciplinary head and neck cancer team in the region. Our physicians offer surgical treatment, including laser surgery to treat voice box cancer, that is not available anywhere else in the area.
Endoscopic transoral laser surgery
With the aid of a surgical microscope and precision control devices, surgeons direct a laser inserted through the mouth. The laser divides the tumor into pieces for removal. Heat emitted from the laser seals in cancer cells. This minimally invasive procedure protects surrounding nerve, muscle and organ functions, resulting in a faster and less painful recovery.
Microvascular surgery
The only specialists in the region experienced in head and neck reconstruction perform complicated surgeries to remove tumors from the jaw and face and reconstructive surgery to preserve appearance and level of functionality.
Robot-assisted surgery
The da Vinci® Surgical System helps surgeons provide the least invasive procedures preserving tissue, nerves, blood vessels and throat organs that would be affected with traditional surgery. Patients recover faster with fewer complications and less pain.
Head and neck cancer clinical trials
All patients receive access to trials that may provide treatment options not available elsewhere. Clinical trials may study innovative radiation and drug therapies, functional and quality-of-life assessments, and supportive care interventions. Search our clinical trials.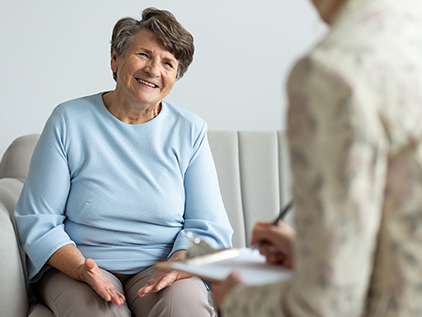 Treating cancer with more than medicine
Our approach to cancer care includes support services for the mind, body and spirit. Research shows this approach provides better outcomes.
Whole person care
Related links