August 13, 2019
It's a Monday night at Central United Methodist Church in Kansas City, and about 50 people are gathered. They come from all walks of life, but they have one thing in common – multiple myeloma.
The Kansas City Multiple Myeloma Family Support Group welcomes people living with this blood cancer and their family members. But they're not the only ones who attend. Hematologist/oncologist Al-Ola Abdallah, MD, is there, too, along with his team of nurses and nurse practitioners from The University of Kansas Cancer Center.
"I've never met a more compassionate group of people," says multiple myeloma survivor Karen Foster, 60. "Dr. Abdallah and his team take their own personal time to come to our meetings. They give us the latest information on new treatments and research. They give us hope."
A tough myeloma journey
Karen – wife, mother, grandmother and classic car aficionado – was diagnosed with multiple myeloma in 2013. She chose The University of Kansas Cancer Center for her treatment.
"We offer an excellent, comprehensive clinic for plasma cell disorders," says Dr. Abdallah, program director. "We collaborate with a number of other specialists – orthopedists, nephrologists, radiologists and palliative care physicians. We share the goal of improving survival and quality of life."
Multiple myeloma affects plasma cells, a type of white blood cell found in the bone marrow. It is the 3rd most common blood cancer after lymphoma and leukemia. Because it often presents no symptoms until the cancer is advanced, treatment can be aggressive. It may include chemotherapy, radiation, surgery and stem cell transplant.
Karen, like many people who have multiple myeloma, was surprised when her primary care physician found abnormalities in her routine blood work. "She thought I might have a liver problem, so I went to a specialist who found that I had high levels of protein in my blood," she says. That finding led her to another specialist who made the diagnosis.
Within months, Karen received chemotherapy and a stem cell transplant. The stem cells repopulate the bone marrow with new, healthy blood cells. Stem cell transplant often results in full remission, but Karen only achieved partial remission. "It was very disappointing," she says. She underwent additional chemotherapy but had serious reactions to the drug, including spikes in her blood pressure and uncomfortable skin rashes.
"We always consider quality of life," Dr. Abdallah explains. "We have to control the disease, but the patient must be able to tolerate the treatment. In Karen's case, after she reacted to 1 type of chemotherapy, we put her on an oral chemo drug and added an antibiotic. It's a rather unique approach for improving the treatment's effectiveness."
Innovative myeloma treatment
Dr. Abdallah points out that The University of Kansas Cancer Center is 1 of the nation's most advanced centers for treating plasma cell disorders. Innovative treatments and clinical trials are available, increasing patients' options and improving their prognosis.
Karen not only tolerated the new drug combination Dr. Abdallah prescribed, but "at the same time, her myeloma went into remission in a very beautiful way," he says.
It's been almost 2 years since she began the drug regimen, and Karen feels great. "I've been in remission for more than a year," Karen says. "I only expected to live for 3 to 5 years when I was diagnosed, but now I hope to see my grandchildren graduate from high school. Even from college!"
In fact, 2 of Karen's 3 grandchildren attend elementary school only a block from her home. They visit every day. "They're the sweetest things ever, and they keep me going," she says.
Karen also credits the cancer center care team. "They're very responsive," she notes. "They know me on sight, and they always return my phone calls quickly. From the doctors to the nurses to the lab techs and receptionists, everyone is kind and professional."
Dr. Abdallah monitors Karen's remission carefully, checking her bloodwork monthly.
"Multiple myeloma is a manageable disease," Dr. Abdallah says. "The primary challenge we face is that it can become resistant to drug therapy, so we're working to find ways to prevent that. Ultimately, I think we will find a cure for multiple myeloma one day."
CAR T-cell therapy offers new hope
One of the precision cancer therapies being tested for multiple myeloma patients at the cancer center involves a new type of targeted immunotherapy known as CAR T-cell therapy. In this treatment, white blood cells are extracted from the body, reengineered in a laboratory and reinfused into the bloodstream, ready to seek and destroy cancer cells.
In 2017, the U.S. Food and Drug Administration approved CAR T-cell therapy for young adults and children with leukemia and adults with non-Hodgkin lymphoma. Academic medical centers across the country, including The University of Kansas Cancer Center, currently are participating in clinical trials of CAR T-cell therapy for multiple myeloma.
"We provide comprehensive care for our myeloma patients. Offering newer drugs and lines of therapy as well as clinical trials is one way we do that," Dr. Abdallah says. "It's truly customized care for the patient."
Those options are among the news Dr. Abdallah and his team share at the support group meetings.
"Nothing's better than the moral support we get at these meetings," Karen says. "There are members who've been living with multiple myeloma for 20 years, and others who were just diagnosed. It's good to know what new treatments are available and to see people living normal lives after their diagnosis."
Joining the fight as a myeloma survivor
Karen appreciates life's joys and also is dedicated to helping eradicate multiple myeloma and support others who have the disease. She organizes the Guys and Gears for Multiple Myeloma car show to benefit multiple myeloma research. The show raised $4,000 in 2017, and the 5th annual show is scheduled for Saturday, October 6, 2018. With her husband, Karen shows off her classic Camaro at the show and says, "It's a fun way to help Dr. Abdallah and his team in their search for a cure."
Learn more about the Kansas City Multiple Myeloma Family Support Group at kc.support.myeloma.org.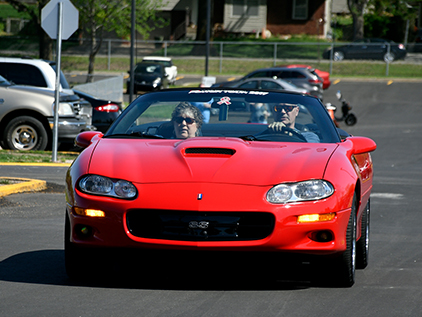 Combining interests close to their hearts, the Fosters organize the Guys and Gears for Multiple Myeloma car show and feature their classic Camaro.
This individual participated in a clinical trial of an investigational treatment. Clinical trials are different from standard medical care. As with all research studies, clinical trial participant outcomes vary. Before participating in a clinical trial, it is important to discuss the risks and benefits with your healthcare provider.