Skip Navigation
Prostate Cancer Survivorship
After your prostate cancer treatment, you may have ongoing health issues that need monitoring. We provide continuing specialized care for your transition from active treatment to daily life as a cancer survivor.
We will review your current quality of life, including mood, overall energy and sexual health, and discuss any concerns you may have. We will do a complete physical exam and provide the results to your primary care doctor.
Our experienced team of doctors, nurses, counselors, dietitians and research coordinators can help you:
Decide which survivorship programs might be best for you
Manage any complications
Limit possible side effects from your treatment
Check for cancer recurrence
Give you access to clinical studies
Make diet and exercise recommendations for better overall health
As part of your survivorship care after prostate cancer, we also help you understand more about your treatment options, possible short- and long-term effects, and how to identify and manage complications. We watch for cancer recurrence and manage your treatment side effects.
We also may refer you to a physician who specializes in prostate cancer survivorship, such as Richard "Jake" Fantus, MD, who is board-certified and fellowship-trained in urologic cancer survivorship, or recommend a care program dedicated to cancer survivorship.
In addition, your survivorship visits may include:
Physical exam
Education on your treatment and side effects
Identifying and managing complications
Reviewing your general health and well-being
Monitoring for cancer recurrence
Assessing and managing your treatment side effects, such as incontinence or erectile dysfunction
Risk assessments and education for family members
Below are helpful websites you may want to visit to learn more about surviving prostate cancer and where to find support as a prostate cancer survivor:
The University of Kansas Cancer Center does not assume responsibility for any of the information posted on these sites.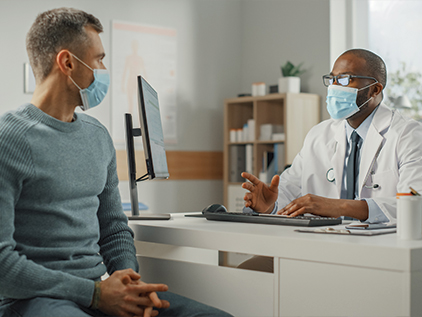 Treating cancer with more than medicine
Our approach to cancer care includes support services for the mind, body and spirit. Research shows this approach provides better outcomes.
Whole person care
Related links