Skip Navigation
Your Prostate Cancer Care Team
Prostate cancer is a complex disease that requires the expertise of a team that is fellowship-trained and subspecialized in only one cancer – your cancer. We know and understand the complexities of the disease that may be missed by a generalist.
Our nationally recognized fellowship-trained urologic surgical oncologists, radiation oncologists and medical oncologists successfully treat all stages of prostate cancer with the most advanced technology. We partner with you for comprehensive care before, during and after your prostate cancer treatment.
The prostate cancer care team at The University of Kansas Cancer Center provides multidisciplinary care that combines the expertise and experience of numerous specialists to ensure you receive the best possible outcome. This includes support care providers who have completed extensive specialty training that encompasses all aspects of prostate cancer care.
Comprehensive prostate cancer care
We work closely with you to develop a comprehensive care plan to treat your cancer and customize it to other health issues you may have, such as heart disease or diabetes. This calls for integrative care, seamlessly pulling together a team of experts from various fields.
Our prostate cancer specialists meet regularly to discuss your care and compare it to national guidelines. They discuss every person's treatment as a team to stay updated on your care and progress.
Our many cancer center locations throughout the Kansas City metro ensure you receive leading-edge care close to home, and we actively conduct research and develop new and effective treatments for prostate cancer through clinical trials.
Prostate cancer care team members
The University of Kansas Cancer Center's prostate cancer care specialists are dedicated to providing comprehensive and compassionate care for those with prostate cancer.
Our specialists, who treat prostate cancer day-in and day-out, provide the most advanced technologies and techniques available. They are national and international leaders in prostate cancer treatment, which is important to know and distinguishes us from a general surgeon or general urologist.
At The University of Kansas Cancer Center, our urologic oncologists, medical oncologists, radiation oncologists and pathologists have specialized training in prostate cancer and know what works for each subset of disease type. Together, the team will coordinate your care to ensure you receive the combination of treatments best suited to you and your particular type of disease.
U.S. News & World Report ranks our cancer care on its Best Hospitals lists. The University of Kansas Cancer Center is 1 of fewer than 60 National Cancer Institute-designated comprehensive cancer centers nationwide. Studies show that NCI-designated cancer centers achieve survival outcomes that are 25% better than those of other centers.
In addition, urologists at The University of Kansas Cancer Center consistently receive one of the highest patient satisfaction scores at 95%, as reported by Press Ganey.
Our multidisciplinary, fellowship-trained prostate cancer team includes subspecialized physicians and nurses who focus only on prostate cancer within their given fields. Your prostate cancer care team may include:
UROLOGIC NURSE NAVIGATOR
Nurse navigators are your first point of contact for prostate cancer care whether you are referred to us for care, seeking a second opinion or calling to understand your diagnosis. Our dedicated prostate cancer nurse navigators are here for you, and often they can offer new patients an appointment within 24 hours. Nurse navigators make sure everything is ready before you see a specialist, including collecting medical record information for the doctor's analysis, getting orders for additional tests when needed and identifying support services. Our nurse navigators, who are recognized by the American Nurses Credentialing Center as Magnet-designated and disease-focused, also connect you with community resources to help with issues you may have. For instance, they can help connect you with lodging options if you're traveling from a long distance or schedule an appointment with a nutritionist. They provide emotional support and clinical expertise as well.


UROLOGIC RADIATION ONCOLOGISTS
A urologic radiation oncologist is an expert in the delivery of radiation treatment for prostate cancer. Your radiation oncologist will discuss specific treatment details with you, as well as strategies to minimize side effects. Our radiation oncology team offers the full range of radiation options including brachytherapy, stereotactic body radiation therapy or SBRT, and we are the first in the region to offer proton therapy.


UROLOGIC SURGICAL ONCOLOGISTS
Our fellowship-trained surgical team provides care from elevated PSA and specialized biopsy ̶ including micro-ultrasound prostate-guided biopsy for the most accurate diagnosis ̶ to comprehensive surgical treatment. Our expertise covers the complete range of surgical options: Retzius-sparing prostatectomy, nerve-sparing procedures, salvage prostatectomy and extended pelvic lymph node dissections. We are a regional referral center for high-risk cancer patients, patients who have had prior surgeries, patients who require additional robotic and salvage robotic surgeries, complex reconstructive robotic surgical procedures and people in need of a second opinion. Because of our advanced training, patients in our care experience:

Improved survival
Shorter hospital stays
Less time in the ICU



UROLOGIC MEDICAL ONCOLOGISTS
Our prostate cancer-focused medical oncology team offers access to new and advanced prostate cancer treatments, including chemotherapy, hormone therapy and immunotherapy. We offer genomic testing specific to your prostate cancer to determine which treatment would be most beneficial to you. We are at the forefront of clinical studies with immunotherapy and targeted therapy used for the treatment of prostate cancer. We are the first and only cancer center in the region to offer Pluvicto® as a new targeted therapy for metastatic prostate cancer. It is the first FDA-approved targeted radioligand therapy available for prostate-specific membrane antigen-positive metastatic hormone-resistant prostate cancer (also known as castrate-resistant). We also offer many clinical trials for early-stage, advanced and metastatic prostate cancer.


UROLOGIC RADIOLOGISTS
Interpreting an ultrasound or MRI scan can be challenging because disease processes can look similar. Our dedicated urologic radiologists focus solely on interpreting diagnostic imaging of prostate tissue and are expertly trained to detect subtle abnormalities that others may miss. We offer the latest prostate imaging technology.


UROLOGIC PATHOLOGISTS
Our prostate cancer-focused pathologists are trained in analyzing tissue samples from all parts of the body, often using a microscope to identify fine details. Becoming board-certified requires focused training in studying diseases and conditions found solely in the prostate and interpreting tissue samples. Our prostate cancer-focused pathologists play an important role in helping the care team arrive at the most precise diagnosis.


SUPPORT AND SERVICES

At The University of Kansas Cancer Center, we understand that cancer affects every aspect of your life. With that in mind, our team is made up of a diverse group of specialists who walk with you through every step of your journey to support you, not just your cancer. We address the entire toll cancer takes on the mind, body and spirit because research shows this approach to cancer treatment provides better patient outcomes.

Our support services team includes social workers, psychologists, dietitians, a chaplain, a physiatrist (specialist in cancer rehabilitation), cancer exercise specialist, nurse navigators, financial counselors and a resource center coordinator along with other specialists to support the specific needs of cancer survivors. This team helps identify challenges patients and caregivers face and provides tools to manage them, whether they are physical, nutritional, spiritual, social or psychological. Our social workers will meet with you to evaluate your needs and connect you with resources. They act as an advocate for you, providing information about lodging, transportation, home care services, financial concerns and medication assistance programs. They can also help you with applications for Social Security Disability and Medicaid and refer you to community resources that offer classes and programs.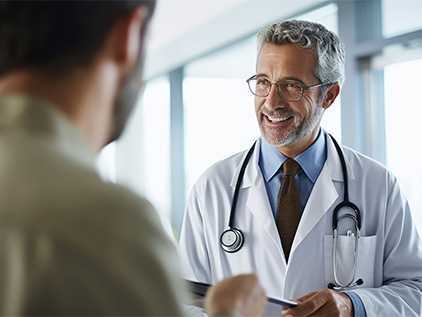 Related links