Skip Navigation
Skin Cancer Treatment
Most nonmelanoma skin cancers can be successfully treated when doctors find them early. Ideally, treatment should begin as soon as possible after a skin cancer screening that confirms a cancer diagnosis. Advanced skin cancers are harder to treat, especially once they've spread.
Treatment options for skin cancer depend on the type, size and location of the cancer, as well as your general health and any personal preferences you may have. At The University of Kansas Cancer Center, we focus on taking an individualized approach for every patient.
Skin cancer treatment options
The most common treatment for skin cancer is surgery. For basal cell carcinomas and squamous cell carcinomas and for early-stage melanomas, skin cancer surgery will probably be performed in the doctor's office. The doctor will numb your skin and remove the cancer while you are awake.
We also use cryosurgery and electrosurgery. These are performed on basal and squamous cell skin cancers in the early stages. Cryosurgery uses extreme cold produced by liquid nitrogen to destroy abnormal tissue. Electrosurgery or electrocautery uses high-frequency electric currents to burn and cut tissue.
Mohs surgery
Sometimes referred to as Mohs micrographic surgery, Mohs surgery is an effective treatment option for 2 of the most common types of skin cancer: basal cell carcinomas (BCCs) and squamous cell carcinomas (SCCs). Mohs surgery involves gradually removing the cancerous tissue layer-by-layer until all of the cancer cells are gone. This procedure spares healthy tissue, leaves the smallest scar possible and has the highest cure rate of all skin cancer treatments.
Interventional radiology
We also offer advanced interventional radiology treatments for melanoma, such as Y-90 radioembolization for melanoma that has metastasized to the liver. IR uses a catheter (a small flexible tube inserted into an artery), usually in the thigh, to provide minimally invasive therapies such as microwave ablation tissue removal. Advanced imaging, including X-ray, CT-MRI and ultrasound, help interventional radiologists guide the catheter to the affected area of the body.
Medications
Medications in the form of topical ointment or salve are sometimes used for nonmelanoma skin cancers. They also are used for precancerous conditions such as actinic keratosis. They include fluorouracil (5-FU) and imiquimod cream. Fluorouracil is an anticancer medication that slows or stops the growth of abnormal cells on the skin. Imiquimod is thought to produce substances that attack abnormal cells, viruses and cancerous cells. These medications include special instructions to avoid irritation to healthy skin.
Chemotherapy
Chemotherapy uses medicines to destroy cancer cells. You receive chemotherapy through your veins. Chemotherapy is not used for basal or squamous cell skin cancer, but may be used to treat melanoma, especially if it has spread to other organs.
Radiation therapy
In many cases, radiation therapy is recommended to treat skin cancer. Radiation is frequently used to treat basal cell or squamous cell carcinomas in people who can not have skin cancer surgery. Radiation may also be used to reduce the risk of recurrence after surgery in people with large or deeply invasive tumors or positive lymph nodes. Radiation plays an important role in treating people with brain, lung, liver and other sites of metastases.
At The University of Kansas Cancer Center, our physicians treat skin cancer with advanced technologies including intensity modulated radiation therapy (IMRT), image guided radiation therapy (IGRT), stereotactic radiosurgery (SRS), the CALYPSO 4D localization system and stereotactic body radiation therapy (SBRT). Our specialists are at the leading edge of using technology to reduce the number of radiation treatments required and improve precision and accuracy of treatment delivery.
Biological therapy
Biological therapy uses materials formed by the body but produced in a lab. These materials boost your body's natural defenses. Examples of such chemicals include Interferon and Interleukin-2, which are given by injection or through the vein. They help your body's immune system destroy the melanoma. The most common side effect is severe tiredness or fatigue.
Another biological therapy is Tretinoin (Retin-A), which comes from vitamin A. Retin-A may prevent new skin cancers.
Life after skin cancer
Cancer survival begins the day of diagnosis and continues every day thereafter. As a melanoma skin cancer survivor, you will receive personalized care that helps prevent, detect and treat complications that may result from your cancer or its treatment.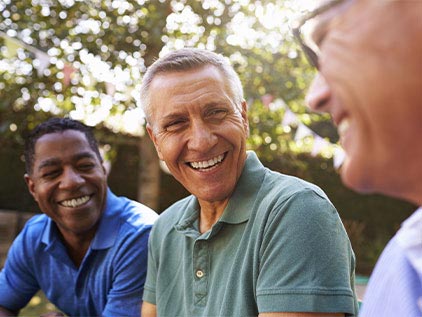 More options, more hope
Many new therapies are available through clinical trials. Find out how you may benefit from a clinical trial, and what it can do for others.
Why join
Related links