Skip Navigation
Skin Cancer Survivorship
As a melanoma survivor, we provide personalized care to help prevent, detect and treat side effects that may result from your cancer treatment.
Your melanoma survivorship care team includes a disease-specific medical oncologist, advanced practice provider, clinical nurse coordinator and nurse navigator. These highly specialized experts work closely with your surgical oncologist, dermatologist and other care providers to help you maintain your overall health and well-being after skin cancer.
As part of your survivorship care, we will:
Obtain your medical history and perform a physical exam
Create a personalized survivorship care plan
Prepare a Resource Survivorship Guide specific to your diagnosis and treatment
Diagnose and help manage posttreatment-related side effects of your skin cancer treatments
Conduct regular skin cancer screenings to watch for recurrence
In addition, we provide information and referrals related to:
Long-term side effects from cancer treatment
Behaviors that promote good health and lower cancer risk
Emotional effects unique to cancer survivors
Clinical trials for cancer survivors
Risk assessment for other cancers
We also offer psychosocial support, including a nutritionist, social worker and psychologist, as part of your survivorship services.
Our team specializes in identifying and helping you manage the late side effects of cancer treatment that can occur months or even years after therapy is completed. Posttreatment side effects vary by individual and depend on your stage of cancer and the type of treatment you received. For example, individuals who received immunotherapy or chemotherapy will likely experience different posttreatment side effects than those who had surgery or radiation alone. Treatment side effects may include:
Tiredness or fatigue
Weight change
Difficulty thinking or concentrating
Peripheral neuropathy – usually experienced as numbness, tingling or pain in hands or feet
Fertility issues and sexual side effects
Bone thinning
Joint pain
Decreased range of motion in the arm or leg where surgery was performed
Chronic swelling or lymphedema, which may occur after surgery is performed on an extremity
Routine checkups
Regular medical appointments and screenings are an important part of your follow-up care. We help coordinate your care with your primary care provider and dermatologist. If you have questions or concerns, please contact your healthcare team.
Clinical trials
As a National Cancer Institute-designated cancer center, The University of Kansas Cancer Center offers the latest clinical trials available. This gives you more options for innovative therapy and more hope for survival.
As a melanoma patient, you have the opportunity to take part in:
Consent for collection of original tissue samples and sampling of tissue in the event that your melanoma recurs. This tissue will be used for biomarker comparison to tailor a treatment plan for you.
Clinical trials offered as part of the full spectrum of treatment options.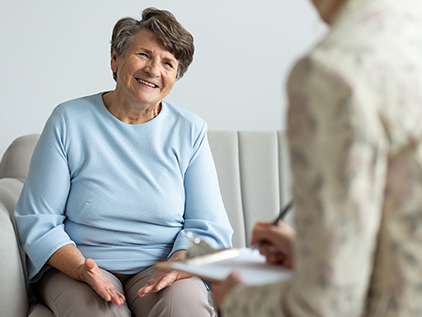 Treating cancer with more than medicine
Our approach to cancer care includes support services for the mind, body and spirit. Research shows this approach provides better outcomes.
Whole person care
Related links