Skip Navigation
Brain Cancer Resources
With ever-expanding and ever-improving treatments, more people are becoming long-term survivors, even those with aggressive brain cancers.
Published survival data is difficult to interpret because of the delay between when the care was provided and when the data is published. For example, 5-year survival rates reported today actually reflect brain cancer treatments that were available 10 or more years ago. The quality of chemotherapy, surgical procedures, radiation therapies and supportive care continues to steadily improve. All of this can contribute to good tumor control as well as survival.
Surviving cancer is a lifelong process. At the regular checkups and MRI scans recommended by your care team, we can continue to help address any of the ongoing symptoms of either tumor or treatment.
Support for brain cancer patients and family
You and your family can face many different challenges while fighting brain cancer. The University of Kansas Cancer Center offers patients and their families helpful services in the Brandmeyer Patient Resource Center, located in the Richard and Annette Bloch Cancer Care Pavilion in Westwood, Kansas. The center's coordinator will provide you and your family with cancer education and social support.
An ongoing support group for those with brain cancer and their families meets on the 1st Tuesday of the month in the evening and is open to all.
We have also partnered with Turning Point. This Kansas City-based organization is dedicated to helping patients and families cope with cancer and other chronic medical conditions.
We continue to work with the Be Head Strong organization, a local advocacy group for patients with brain tumors and their families.
Helpful websites
The University of Kansas Cancer Center does not assume responsibility for any of the information posted on these sites.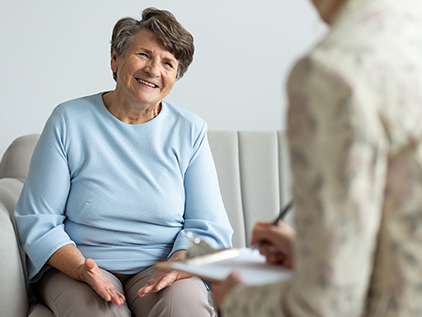 Treating cancer with more than medicine
Our approach to cancer care includes support services for the mind, body and spirit. Research shows this approach provides better outcomes.
Whole person care
Related links