Skip Navigation
Soft tissue sarcomas are rare forms of cancer. There are more than 50 different types of soft tissue sarcomas. Some types affect children more often while others tend to affect adults. Doctors are not certain what causes most soft tissue sarcomas to develop.
At The University of Kansas Cancer Center, we have deep expertise in treating several specific types of soft tissue cancers, along with offering our patients access to leading-edge treatments through clinical trials.
Soft tissue sarcoma care overview
Soft tissue sarcomas are a group of cancers that occur in the soft tissues of the body, such as muscle, fat, blood vessels, nerve tissue and connective tissue. Sarcomas typically occur within the arms or legs, but may develop in any area of the body, including the chest, spine and abdomen. Sarcomas can metastasize or spread to other organs of the body, most often the lungs.
Soft tissue sarcomas typically appear as slow-growing, painless masses, usually in the arms, legs, chest or abdomen. Because they are not painful, they often come to a physician's attention only after several months of growth. Many times, a patient will describe a recent injury or trauma in the area of the tumor that leads them to notice the mass. Proper diagnosis of soft tissue cancer can be challenging because the tumors can resemble other types of growths that are not cancerous. Left untreated, soft tissue sarcoma tumors grow larger and the cancer can spread.
The most common treatment for soft tissue sarcomas is to surgically remove the tumor. Along with the tumor, your surgeon will remove a cuff of normal tissue that surrounds the tumor. Additional treatment might include:
Radiation to reduce the chance of local recurrence
Chemotherapy to minimize the risk of the tumor spreading within the body
Limb salvage and preservation to avoid amputation
Microsurgery for soft tissue reconstruction
Brachytherapy to deliver high doses of radiation directly to tumors
Clinical trials to provide advanced treatments in addition to your current standard of care
The best treatment option will depend on your specific type of soft tissue cancer. Your doctor will also consider how far the cancer has spread, its location, your age and general health and many other factors before recommending a treatment plan.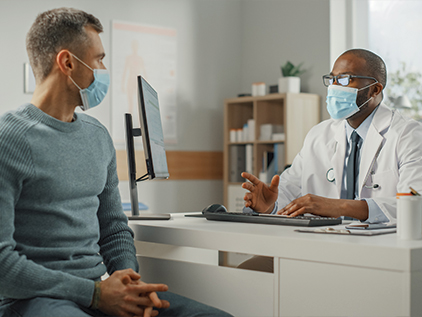 Begin your cancer journey with a second opinion
We know the value of getting a second opinion on a cancer diagnosis. Let us help you navigate your cancer journey. Connect with one of our nurse navigators at 913-588-1227 or 844-323-1227 to schedule your cancer second opinion.
Learn more

NCI Designation
Our cancer center is 1 of fewer than 60 National Cancer Institute-designated comprehensive cancer centers nationwide.

Clinical Trials
We are a pioneer in new clinical trial research that leads to innovative treatments.

Still the Best
Our hospital continues to rank as the best in Kansas City and in Kansas according to U.S. News & World Report.
Learn more about soft tissue sarcoma