Skip Navigation
Brachytherapy is a form of radiation therapy that places radioactive seeds directly into or around tumors, delivering very high radiation doses to the tumor while sparing the surrounding healthy tissue. In contrast to external beam radiation, where the beam needs to travel through the body to reach a tumor, brachytherapy uses a procedure to place radioactive seeds directly into the tumor. This can be the most accurate way to deliver radiation treatment and minimize damage to surrounding organs. Brachytherapy is a true example of academic medicine at its best.
Our specialists collaborate to deliver this innovative treatment. The seeds are created individually and customized for each patient to preserve effectiveness and ensure the physician-prescribed dosage of radiation is present within the seeds.
What is brachytherapy?
Brachytherapy, often referred to as internal radiation, is a form of radiation therapy used to treat many types of cancer. Unlike conventional radiation therapy that uses external beam radiation, brachytherapy places radioactive seeds directly inside your body. This enables doctors to deliver higher radiation doses directly to the tumors. It may also cause fewer side effects than traditional external beam radiation therapy.
There are 3 main types of brachytherapy: low-dose rate, high-dose rate and permanent. The type you receive will depend on the type of cancer and your specific treatment plan.
Low-dose rate brachytherapy:

With low-dose brachytherapy, a procedure is performed to place radioactive seeds directly inside the tumor. You receive a slow and continuous dose of radiation from these radioactive seeds over time.

High-dose rate brachytherapy:

High-dose brachytherapy works a little differently. With this treatment, the radiation seed is temporarily placed inside the tumor for between 10 to 20 minutes. You may have treatments more than once a day for several days or once a week for several weeks, depending on your type of cancer and treatment plan.
Who can have brachytherapy?
Brachytherapy is effective in the treatment of many cancers throughout the body. It is best used in patients where the cancer has not spread, or metastasized. In many cases, brachytherapy is combined with other treatments, including external beam radiation therapy or surgery. Some examples include:
Carcinoma of the endometrium
Eye cancer
How does brachytherapy work?
Much like external beam radiation therapy, brachytherapy uses radiation to kill cancer cells. The difference with brachytherapy is that it allows doctors to provide higher doses of radiation delivered directly into the cancer while minimizing exposure to healthy tissue. Radiation is delivered to the cancer cells in the form of radioactive seeds.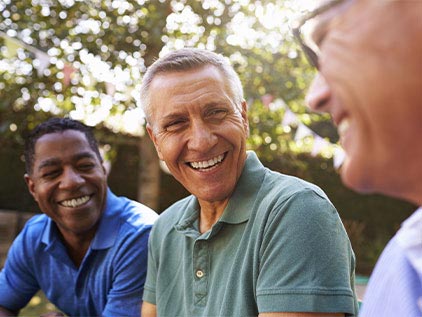 More options, more hope
Many new therapies are available through clinical trials. Find out how you may benefit from a clinical trial, and what it can do for others.
Why join
Benefits and risks of brachytherapy
Brachytherapy offers many different benefits when it comes to cancer treatments. Because of its internal delivery directly into the tumor, doctors can use high-dose radiation while reducing the side effects commonly seen with external beam radiation. It is a minimally invasive procedure that is often performed on an outpatient basis. Treatment times are typically short, which may offer quicker recovery.
Why choose us
We offer the most advanced radiation technologies in the Kansas City region, including brachytherapy, and our radiation oncologists are specialized experts in the cancers they treat. For some cancers, brachytherapy is the best treatment option. For example, for men with aggressive, high-risk prostate cancer, brachytherapy will provide significantly higher cure rates than external beam radiation treatment. As with any cancer treatment, the expertise of the physician is very important. Physicians at The University of Kansas Cancer Center are nationally renowned experts and have the most extensive experience with brachytherapy in this region.

NCI Designation
Our cancer center is 1 of fewer than 60 National Cancer Institute-designated comprehensive cancer centers nationwide.

Clinical Trials
We are a pioneer in new clinical trial research that leads to innovative treatments.

Still the Best
Our hospital continues to rank as the best in Kansas City and in Kansas according to U.S. News & World Report.
Request your appointment today.
To make an appointment at The University of Kansas Cancer Center, call 913-588-1227.