Skip Navigation
Brachytherapy is a form of radiation therapy that places radioactive seeds directly into or around tumors, allowing very high radiation doses to the tumor while sparing the surrounding healthy tissue. Brachytherapy is a true example of academic medicine at its best.
Our specialists collaborate to deliver this innovative treatment. The seeds are created individually and customized for each person to preserve effectiveness and ensure the physician-prescribed dosage of radiation is present within the seeds.
What is brachytherapy?
Brachytherapy, often referred to as internal radiation, is a form of radiation therapy used to treat many types of cancer. Unlike conventional radiation therapy that uses external beam radiation, brachytherapy places radioactive seeds directly inside your body. This enables doctors to deliver higher radiation doses directly to tumors and specific areas. It may also cause fewer side effects than traditional radiation therapy.
There are 3 main types of brachytherapy: Low-dose rate, high-dose rate and permanent. The type you receive will depend on the type of cancer and your specific treatment plan.
Low-dose rate brachytherapy: With low-dose brachytherapy, you receive a slow and continuous dose of radiation over time. This often involves a hospital stay of 1 to 7 days while the radiation seed is in place. After treatment concludes, the radiation seed and catheter are removed.
High-dose rate brachytherapy: High-dose brachytherapy works a little differently. With this treatment, the radiation seed is only in place for 10 to 20 minutes at a time. You may have treatments more than once a day for several days or once a week for several weeks, depending on your type of cancer and treatment plan. In some cases, the catheter is removed between treatments while in others it remains in place.
Permanent brachytherapy: In this form of brachytherapy, a radiation seed is implanted and left inside the body. The radiation gets weaker each day and eventually will go away. With this form of treatment, it is essential to limit your time around other people and follow safety measures given to you by your physician.
Who can have brachytherapy?
Brachytherapy is effective in the treatment of many cancers throughout the body. It is best used in patients where the cancer has not spread, or metastasized. In many cases, brachytherapy is combined with other treatments, including traditional radiation therapy or surgery. Some examples include:
Carcinoma of the endometrium
Eye cancer
How does brachytherapy work?
Much like conventional radiation therapy, brachytherapy uses radiation to kill cancer cells. The difference with brachytherapy is that it allows doctors to provide higher doses of radiation directed at the cancer while minimizing the exposure to healthy tissue. Radiation is delivered to the cancer cells in the form of an implant, known as a seed, pellet, ribbon, wire, needle, capsule, balloon or tube.
There are 2 forms of implant placement: intracavitary and interstitial. With intracavitary, the implant is placed within a body cavity, such as the uterus. With interstitial, the implants are placed near a tumor but not within a body cavity.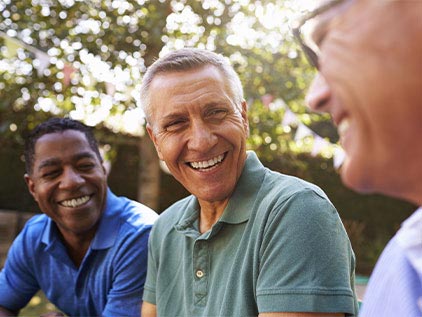 More options, more hope
Many new therapies are available through clinical trials. Find out how you may benefit from a clinical trial, and what it can do for others.
Why join
Benefits and risks of brachytherapy
Brachytherapy offers many different benefits when it comes to cancer treatments. Because of its internal delivery, doctors are able to use high-dose radiation while reducing the side effects commonly seen with conventional radiation. It is a minimally invasive procedure that, depending on your treatment options, can be performed on an outpatient basis. Treatment times are often short and treatments offer quicker recovery times.
Side effects are typically less than seen with conventional radiation therapy, but treatment can cause tenderness and swelling in the treatment area.
In addition, because the radiation source is inside your body, you will give off radiation for a short time period, especially with higher doses. You will be given safety measures to follow, including limiting exposure to others, especially pregnant women and young children.
What happens during brachytherapy?
To begin the treatment, thin catheters are placed into the tumor. The catheters connect to a high-dose rate machine that holds a single, highly radioactive seed at the end of a wire. The seed is pushed into each of the catheters one at a time under the guidance of a computer.
Once placed, the radioactive seeds attack the tumor with the initial dose of radiation within the first 15 minutes of implantation. Within 45 minutes, the second dose is released to prevent the cancer cells from spreading and the tumor from growing back.

NCI Designation
Our cancer center is 1 of only 71 NCI-designated cancer centers nationwide.

Clinical Trials
We are a pioneer in new clinical trial research that leads to innovative treatments.

Still the Best
Our hospital continues to rank as the best in Kansas City and in Kansas according to U.S. News & World Report.
Request your appointment today.
To make an appointment at The University of Kansas Cancer Center, call 913-588-1227.