Skip Navigation
Metastatic Breast Cancer
Treating metastatic breast cancer is integral to the comprehensive breast cancer care provided at The University of Kansas Cancer Center. Our breast cancer care specialists are committed to providing each individual with the highest quality and most personalized breast cancer treatment options available. You will receive continuous and compassionate care and support from the moment you walk through our doors.
Metastatic breast cancer can happen at any time. When breast cancer metastasizes, cancer cells spread to lymph nodes or other organs of the body — usually to the liver, bones, lungs and brain. This is also called stage 4 breast cancer.
Treating metastatic breast cancer
While metastatic breast cancer cannot be cured, it is treatable. New targeted therapies and novel drug combinations can postpone the progression of disease, relieve breast cancer-related symptoms and improve quality of life. As a result, women with metastatic breast cancer are living longer with a better quality of life than ever before.
Our treatments for metastatic breast cancer are founded on evidence-based guidelines and National Cancer Institute guidelines. We conduct leading-edge clinical research trials and our scientists and physicians are actively involved in metastatic breast cancer research, developing new therapies to elevate standards of care for those living with metastatic disease.
Comprehensive, compassionate care
Women with metastatic breast disease are not alone in their treatment experience. For each person, we develop a personalized treatment plan as unique to her as her fingerprints and provide the latest evidence-based therapies. Expertly trained nurse navigators and your specialized care team will guide you every step of the way.
Your care team will include dedicated experts from breast medical oncology, breast surgical oncology and breast radiation oncology. These specialists will coordinate your care to ensure you receive treatments designed precisely for you. Your overall care can include psychological and spiritual services, educational resources, financial and nutrition counseling and support groups.
Clinical trials
You may also be eligible to take part in a clinical trial. Clinical trials are scientific studies in which we test new treatments – drugs, diagnostic procedures and other therapies – to find better ways of preventing, diagnosing and treating various types of cancer. Nearly all cancer drugs in use today were tested and made available for use through clinical trials. As a metastatic breast cancer patient, you'll benefit from our innovative clinical trials, many of which are developed here, that are not available anywhere else. These trials allow you to experience new treatments and therapies before they are made available to the general public.
As the only National Cancer Institute-designated cancer center in the region, our physicians have access to more clinical trials. With more than 200 cancer specialists at our 12 locations, we offer the largest cancer program in the Kansas City metro region.
Because of this breadth, our oncologists specialize and focus on particular disease areas. We also stay on top of drug development, evolving treatments and technologies as oncology care changes faster than ever before. Additionally, all of our clinical trials follow National Institutes of Health as well as Food and Drug Administration guidelines.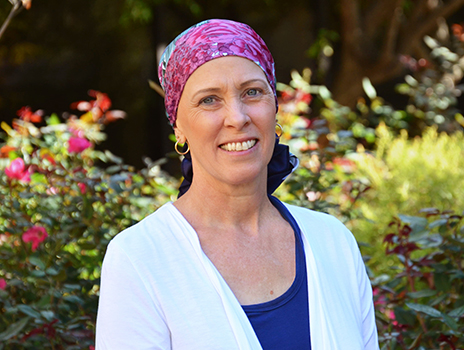 Going the distance
Treated for breast cancer in 2013, Debbie was diagnosed with metastatic disease in 2015. That's when she moved her care to The University of Kansas Cancer Center.
Debbie's story
Related links