Skip Navigation
Message from the director
2018 Cancer Research Highlights
What a year it's been for cancer research! In my 39 years of experience, never have I witnessed such a leap in cancer knowledge and trailblazing therapies. These gains, as well as the American Cancer Society's recent announcement that cancer death rates have declined 27% since 1991, give me a renewed hope.
Still, roughly 1.7 million people will be diagnosed with cancer this year in the United States. There is more to be done.
As the only National Cancer Institute (NCI)-designated cancer center in the region, we feel a deep personal obligation to cure all cancers.
At The University of Kansas Cancer Center, researchers, physicians, nurses and educators work together, examining cancer from several perspectives. By increasing our understanding of cancer risk factors, developing new and improved screening methods for cancer prevention and early detection, as well as applying basic lab discoveries to create new and improved cancer therapies, we can make a difference.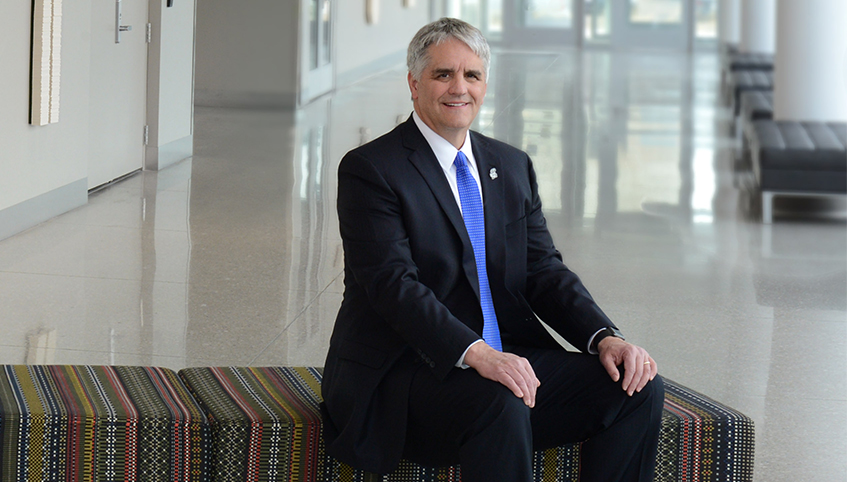 A foundation built on collaboration
Groundbreaking discoveries cannot occur in a vacuum. When you bring together experts, the possibilities are limitless. It is when a world without cancer becomes possible.
At KU Cancer Center, we are starting with our catchment area, which includes the entire state of Kansas and western Missouri. We are collaborating with cancer care providers across this region, where more than a quarter of the population lives in rural areas.
The American Society of Clinical Oncology's (ASCO) 2017 State of Cancer Care in America report found that about 19 percent of the U.S. population resides in rural areas, but only 7 percent of oncologists practice in rural areas, and cancer mortality rates certainly reflect those gaps in care. As we work towards the next (and highest) level of NCI designation, Comprehensive, we will continue to hone efforts that have the biggest effect on the populations we serve.
Not surprisingly, collaboration is also at the heart of a new initiative I am spearheading. As president of the Association of American Cancer Institutes (AACI), I am working with AACI's 98 cancer center members to develop a comprehensive library of sample legislation that advances cancer research, treatment and prevention. By pooling resources, we can advance sound public policies that may save hundreds – if not thousands – of lives.
A cancer-free Kansas (and beyond)
In terms of depth and breadth of cancer research occurring in our state, The University of Kansas Cancer Center stands alone. Our efforts are diverse and far-reaching. About 15,000 Kansans will be diagnosed with cancer this year. This motivates us at KU Cancer Center to work together to do more. There is no time to waste.
I am immensely proud of our team and the progress we have made in understanding cancer's complexities and reducing its burden in our communities. I hope you enjoy learning about some of these efforts in this year's issue of Beyond the Bench.
With gratitude,
Roy A. Jensen, MD
Director, The University of Kansas Cancer Center
Director, Kansas Masonic Cancer Research Institute
Related links