Skip Navigation
Message from the director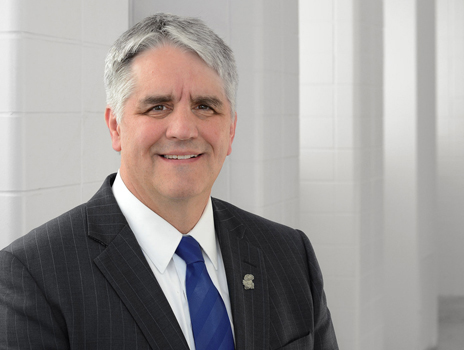 2020 Cancer Research Highlights
When I wrote my welcome letter for last year's issue of Beyond the Bench, the word "pandemic" was not a part of our everyday vernacular. Now a virus rages through our communities. Everyone has felt its effects.
Yet cancer persists. And so do we.
The University of Kansas Cancer Center's mission remains the same: conquer all cancers. Despite the unexpected hurdles, we continue to develop leading-edge clinical trials and launch exciting novel research efforts. This has required us to be agile and flexible in our approach. With our robust research infrastructure and clinical trial experts, we have looked to see how we can help in fighting COVID-19. In the spring of 2020, cancer center physician-scientists pivoted to test a new drug with the potential to keep COVID-19 patients from needing a ventilator. This is one of many cancer center efforts undertaken to better understand the virus, which you'll read about in this report.
Beyond research, our people found other ways to help in the fight. Graduate and post-doctoral students volunteered to help with the clerical aspects of rapid testing. Non-clinical staff stationed themselves at the entries of our care facilities, outfitted with thermometers to conduct temperature checks. I have witnessed colleagues stretch into new roles and adapt to the ever-changing environment, bravely and creatively.
I have witnessed colleagues stretch into new roles and adapt to the ever-changing environment, bravely and creatively. Dr. Roy Jensen
The cancer center is marching ahead with the development of our application requesting National Cancer Institute (NCI) designation renewal, due in September 2021. The application is no small feat ― our last submittal exceeded 1,200 pages. With this application, we aspire to achieve "Comprehensive" designation, the NCI's premier ranking awarded to the very best cancer centers. Comprehensive cancer centers must demonstrate depth, breadth and synergy across all areas of research, including clinical, basic, prevention and population health. We aim to give all people in our region greater access to breakthrough ideas and novel treatments, and Comprehensive designation propels us closer to that vision.
One of my primary charges in 2021 is to build support and raise funds for a new cancer research building, which will include 438,000 new net square feet dedicated to cancer research and patient care. A linchpin of Comprehensive designation is building a centralized facility that brings together our scientists and clinicians to support transdisciplinary work. Currently, our labs and offices are scattered across the medical center campus. Though it is a challenging climate to raise funds, I am confident we can rally support.
I want to thank everyone ― our scientists, nurses, clinicians, advocates and support staff ― for their unyielding desire to help in our quest to conquer all cancers. I don't think anyone expected this year to turn out as it did, but we adapted and stayed the course.
Take care,
ROY A. JENSEN, MD
Director, The University of Kansas Cancer Center
Director, Kansas Masonic Cancer Research Institute
Related links