Skip Navigation
Message from the Vice Chancellor and Director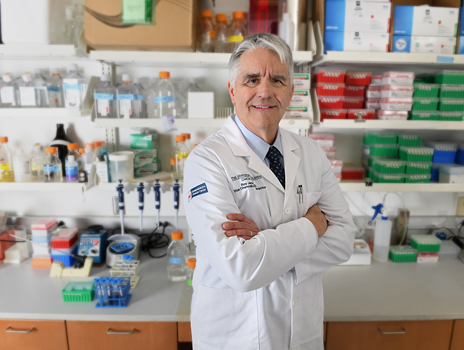 2022 Cancer Research Highlights
What a year! As you may have heard, The University of Kansas Cancer Center achieved comprehensive designation from the National Cancer Institute (NCI) last summer. This feat is the result of decades of work. Comprehensive designation is not just a landmark achievement for our institution, it's a pivotal moment for everyone living in the region.
In 2006, Chancellor Robert Hemenway declared that attaining NCI comprehensive designation was the University of Kansas' top priority. What followed was nothing short of awe-inspiring. Support – in all shapes and sizes – flowed in. Our goal became a collective pursuit.
Working together, we will continue to transform the landscape of cancer research and care in our communities. Dr. Roy Jensen
Everything we have accomplished, we did together. If you were to omit just one person and their contributions, we would not be where we are today. I think of that often, and I am humbled.
We are closer to conquering all cancers, but our work is not done. Working together, we will continue to transform the landscape of cancer research and care in our communities.

With gratitude,
ROY A. JENSEN, MD
Vice Chancellor and Director, The University of Kansas Cancer Center
Director, Kansas Masonic Cancer Research Institute
Related links