Skip Navigation
Message from the director
2017 Cancer Research Highlights
I am pleased to present our annual publication, Beyond the Bench, which highlights some of The University of Kansas Cancer Center's most exciting cancer research efforts over the past year. For some time, the cancer center has been on an exciting upward trajectory: offering cutting-edge clinical trials, advancing breakthrough lab discoveries and acquiring the brightest minds in research. As a result, we've helped to reduce the number of cancer deaths and advance the field while also laying the groundwork for the next leap forward in research and care.
Last year, we highlighted Ciclopirox Prodrug, the first cancer center-invented cancer drug to move from bench to bedside. I am proud to announce that it will be moving into early phase first in-human clinical trials in early 2018. We also discussed our efforts in strengthening collaborations with Children's Mercy. In July 2017, Children's Mercy became a National Cancer Institute (NCI)-approved Consortium Partner, joining existing member Stowers Institute for Medical Research.
Together, our reach is broader, bench strength is deeper and efforts are amplified. We are more than 350 cancer researchers and physicians strong. Currently, pediatric cancer research receives only 4% of the NCI's overall budget; this partnership bridges the gap, fortifying research and treatment efforts across the entire lifespan of our patients. In the pages that follow, Dr. Tom Curran, chief scientific officer and executive director of the Children's Research Institute at Children's Mercy, elaborates on what this alliance means to our community.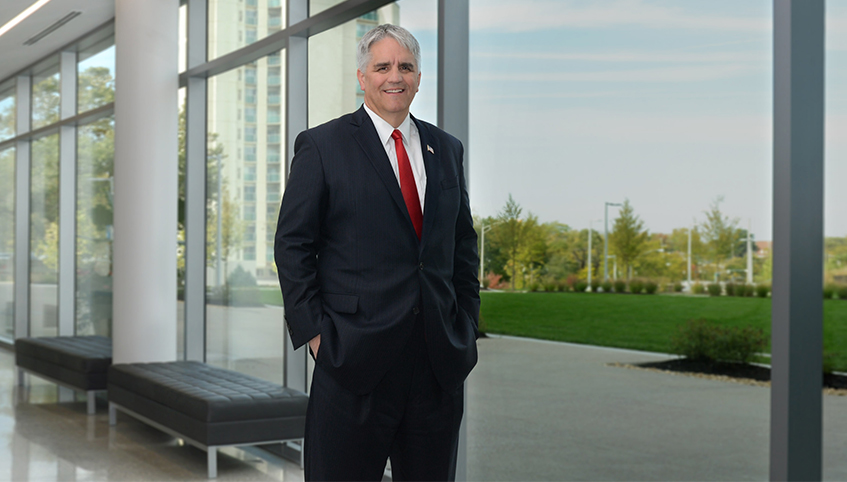 You will also read about a one-of-a-kind registry that captures the nuances of triple-negative breast cancer in individual patients and how its data is helping to inform research globally. You will learn about our investigator-initiated clinical trials, ideas born here at the cancer center that are taken into the clinic and have the potential to change the standard of care. We also highlight efforts to connect with communities that often fly below the radar when it comes to cancer prevention and care. This research illustrates the future of cancer therapy and prevention: increasingly personalized, precise and innovative.
The work recognized in these pages is testimony to our dedicated – and growing – team. We recently welcomed Dr. Weijing Sun, director of medical oncology and associate director for clinical research. His arrival is crucial to the success of our center, and I hope you enjoy learning more about him and his bold vision in the following pages. We are also in the process of filling 4 first-of-its-kind endowed chair appointments made possible by support from 4 individual donors and 4 foundations. The endowed chairs will work for Children's Mercy and have joint faculty appointments with The University of Kansas Cancer Center.
The journey to a cancer-free Kansas and beyond is a labyrinthine one. But we are making progress. While this report reflects The University of Kansas Cancer Center's recent accomplishments, it also serves as an indicator of a promising future. As I look ahead, I believe we are poised to make another surge forward in the war on cancer.
With gratitude,
Roy A. Jensen, MD
Director, The University of Kansas Cancer Center
Director, Kansas Masonic Cancer Research Institute
Related links