Skip Navigation
Message from the director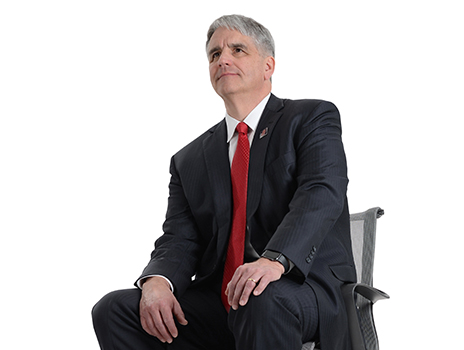 2019 Cancer Research Highlights
When I talk about The University of Kansas Cancer Center, you can count on me mentioning our National Cancer Institute (NCI) designation. It is a source of pride, a symbol of our excellence in cancer research and treatment.
We are the only cancer center in the region, and one of only 71 in the nation, to receive this distinction. NCI-designated cancer centers pioneer cancer treatments that help save lives, offer innovative, leading-edge clinical trials and train the next generation of scientists.
But there is more to do. People are still being diagnosed with and dying from cancer. That is why we must achieve Comprehensive Cancer Center status, the highest level of NCI designation.
What does it mean to be a Comprehensive Cancer Center? It is the gold standard, awarded to cancer centers that are recognized for their trailblazing research and leadership in developing cutting-edge treatments. To achieve this, we must demonstrate significant depth and breadth in basic, clinical and translational research, with a clear focus on the cancers affecting communities in our catchment area.
In 2019, we made several leaps toward this milestone, including becoming a minority/underserved community site of the National Cancer Institute's Community Oncology Research Program (NCORP). Of the 14 national sites charged with accruing individuals to NCI-approved cancer clinical trials and research studies, we are the only site focusing on rural communities. Led by Gary Doolittle, MD, medical director of the Masonic Cancer Alliance, and Priyanka Sharma, MD, breast medical oncologist, this distinction validates our expertise in cancer prevention, survivorship and cancer care delivery research. Most importantly, it amplifies the reach of clinical trials to a population at greater risk of dying from cancer.
But there is more to do. People are still being diagnosed with and dying from cancer. That is why we must achieve Comprehensive Cancer Center status, the highest level of NCI designation. Dr. Roy Jensen
Our team of physician-scientists grew, moving us closer to our vision of offering a clinical trial to each of our patients. A rare breed in the industry, physician-scientists spearhead clinical trials that spring from observations in the clinic. This growth includes the key addition of Ronald Chen, MD, MPH, who joined the cancer center as chair and professor of Radiation Oncology and associate director for Health Equity. He brings tremendous expertise in leading prostate, bladder and testicular cancer clinical trials, and we are excited to welcome him back to his home state.

There are many more hard-won accomplishments from the past year, all of which fill me with pride. It also makes me hopeful for the future of cancer research. The next chapter will include breathtaking new realizations about cancer's biology, propelling trailblazing treatments that will fundamentally transform the cancer experience. These advances are within reach, another step forward in conquering all cancers.

ROY A. JENSEN, MD
Director, The University of Kansas Cancer Center
Director, Kansas Masonic Cancer Research Institute
Related links