Skip Navigation
Outreach and Education Fill Minority Gap
Outreach and Education Fill Minority Gap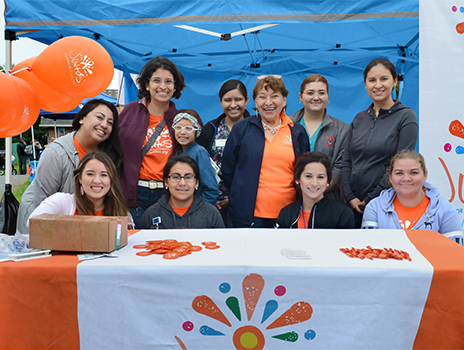 On a soggy Saturday morning in September, members of the University of Kansas Medical Center's JUNTOS for Advancing Latino Health huddled under a tent, trying to stay dry. Nearby, a band, cheerleaders and community members marched in the Wyandotte Central Avenue Dotteversity parade.
The JUNTOS team had gathered to host a biospecimen donation drive for The University of Kansas Cancer Center Biobank, which supports cancer research by serving as a bank for human tissues and fluids. The drive was the product of months of planning, education and coordination with local Latino organizations and leaders.
"We had all been up late the night before preparing for this event. We were hoping some people would come despite the rain," said Mariana Ramirez, LMSW, JUNTOS director. "At nine o'clock on the nose, our first participant showed up, paperwork complete and ready to donate!"
JUNTOS Contra el Cáncer
The drive is 1 prong in a multifaceted, culturally relevant and linguistically tailored campaign to involve more members of Kansas City's Latino community in cancer research. Called JUNTOS Contra el Cáncer (Together Against Cancer) and supported by a local foundation, researchers at The University of Kansas Cancer Center and JUNTOS have partnered with the Hispanic Chamber of Commerce of Greater Kansas City to increase awareness of clinical trials and biospecimen collection to empower Latinos to make informed decisions about cancer treatment. A Community Advisory Panel, which includes Latino leaders from the chamber, local community influencers and cancer survivors, aids in community outreach.
Latinos make up nearly 17% of the U.S. population. In Wyandotte County, part of the cancer center's catchment area and comprised of Kansas City, Kansas, Bonner Springs and Edwardsville, nearly 29% of the population is Latino. However, less than 3% of cancer clinical trial participants nationally are Latino, while cancer is the leading cause of death for Latinos.
"When Latinos and other minorities are underrepresented in clinical trials, that means they may not benefit equally from breakthroughs in cancer treatment," said Sally Maliski, PhD, RN, FAAN, associate director for health equity at The University of Kansas Cancer Center and dean of the KU School of Nursing.
By participating in cancer research, you are helping to find a future treatment. –Mariana Ramirez, LMSW

JUNTOS director
In the case of the BioBank drive, researchers use these donated biospecimens–small amounts of blood, urine and tissue–to study how genes, lifestyles and our environments may lead to cancer. Collection of samples from all groups is critical because clinical research increasingly relies on the availability of appropriate genetic materials or the development of new, more targeted cancer therapies.
A culturally customized approach
Mistrust, fear and misconceptions amongst Latinos have influenced their level of participation in cancer research. That is why education is a key ingredient in JUNTOS Contra el Cáncer's efforts. Working closely with the advisory panel, team members hosted multiple interactive, bilingual presentations that addressed those misunderstandings and emphasized the benefits of participation. A survey administered before and after presentations assessed audience members' knowledge and awareness of cancer clinical trials and biospecimen collection.
"By participating in cancer research, you are helping to find a future treatment. Once people started understanding this, we saw that a big motivation for this community was the hope to find a cure. One attendee, who ended up donating blood, said he hoped this would ultimately lead to more Latino-based studies," says Ileana Cepeda, MPH, JUNTOS researcher.
According to studies, Latinos gravitate toward technology-based educational materials, so researchers utilized social media, bilingual patient video testimonials and an animated video about the BioBank as educational tools. Latinos also utilize text messaging more than any other group, and 75% of those interested in donating opted to receive text reminders about the biospecimen drive.
The day of the event, 37 samples were drawn, and due to time constraints, volunteers were turned away.
"This was our very first attempt to take something out into the community, and the community responded," Ramirez says. "Our preliminary findings suggest that culturally tailored presentations and community-based biospecimen collection are feasible methods to increase Latino representation in cancer clinical research."
Maliski adds that, though it can take time to shift Latinos' perceptions, their efforts could lead to more Latinos participating in cancer research, and ultimately improved therapies. The team will seek additional funding to build on the relationships and trust that has been established thus far.
"We must continue these efforts working within the community, educating people about clinical trials, biospecimen donation, cancer prevention and symptom management," Maliski says. "Now that JUNTOS Contra el el Cáncer has been established in the community, we don't want to pull out. We want to keep going."
Help us do more.
By supporting The University of Kansas Cancer Center, you help us reach more people and save more lives. Give to research or patient care.
Related links