Skip Navigation
Blood and Marrow Transplant
BMT Survivorship
Our blood and marrow transplant (BMT) survivorship program offers you a lifetime of care. Your survivorship care team watches for health issues that can arise long after your blood and marrow transplant. Our goal is to help you and your caregivers live healthy lives after treatment.
We are part of your care team starting with your diagnosis. Survivorship doctors and nurses offer education on your condition along with support for your physical, psychological, spiritual and financial needs.
Your first BMT survivorship visit
Your first survivorship visit will take place at the end of follow-up care. You will meet with your BMT survivorship team for an hour-long appointment that will include checking for recurrence, screening for secondary cancers, healthy lifestyle recommendations or modifications and a graft-versus-host disease (GVHD) assessment. We will create an individual survivorship care plan for you.
Additionally, we can assist in establishing a primary care physician (PCP) and provide your PCP and primary oncologist with comprehensive information about your survivorship plan, including recommendations for screening and testing.
As needed, we will make referrals to services depending upon your individual needs. These may include:
Dietitian
Oncology psychologist
Dermatologist
Dentist
Ophthalmologist
Social worker
Financial counselor
After this first meeting, you'll visit your BMT survivorship team once a year. They will be a resource for you for life. You can contact them at any time if you have any complications or concerns following your transplant. They can seamlessly transfer your care to your BMT doctor if needed.
Annual BMT survivorship visit
During your annual visit, we will review your current quality of life, including mood, overall energy and sexual health, and discuss any concerns you may have. We will do a complete physical exam and provide the results to your primary care doctor.
We also provide education about your treatment, possible short- and long-term effects, and how to identify and manage complications. We watch for cancer recurrence and manage your treatment side effects.
Your annual survivorship visits include:
Physical exam
Education on your treatment and possible short- and long-term effects
Identifying and managing complications and overall health
Monitoring for cancer recurrence
Assessing and managing your treatment side effects
Risk assessments for related heart health issues
Risk assessments and education for family members
BMT survivorship team
The BMT survivorship team was formed December 2016. Members include:
Cherie Morey, APRN
Erin Winters, RN, nurse manager
Tania Torres, RN, nurse coordinator
Darla Beckman, LPN
Location
The Blood and Marrow Transplant Survivorship Clinic is on Level 3 of the Richard and Annette Bloch Cancer Care Pavilion, at Shawnee Mission Parkway and Belinder Road in Westwood, Kansas. The cancer care pavilion offers free valet parking at the entrance and free garage parking east of the entrance.
Helping our community
The Blood and Marrow Transplant Survivorship Clinic fulfills a need in our patient community:
The clinic specializes in caring for the needs of posttransplant patients transitioning to life after treatment.
Survivors have a unique set of healthcare needs due to late effects of chemotherapy and/or radiation.
Posttransplant challenges affect the physical and mental health of survivors, as well as their quality of life.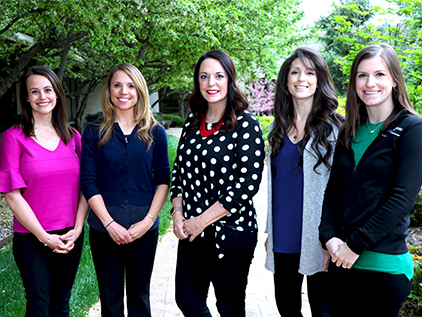 Survivors on staff
Members of our blood cancer care team know what it's like to be a patient because each was once a patient here herself.

Their stories
Related links