Skip Navigation
Types of Blood & Marrow Transplant
Blood and Marrow Transplant
Types of Blood and Marrow Transplant
We provide all types of bone marrow and peripheral blood stem cell transplants. Transplanted cells renew your blood supply after chemotherapy and/or radiation therapy and re-establish a healthy blood supply.
You'll receive the transplant type most suitable for your specific diagnosis, stage of disease, overall health, current physical condition and age.
There are 2 primary types of blood and marrow transplant (BMT):
Autologous:

We collect your healthy stem cells and freeze them in liquid nitrogen until it's time for your transplant. Using your own cells greatly reduces the risk of complications.



Allogeneic:

Stem cells come from a donor whose tissue type matches yours. Potential donors are siblings, close relatives or matched unrelated donors. We are designated by the National Marrow Donor Program as a matched unrelated donor transplant center.
Allogeneic transplants increase the risk of complications. These include graft-versus-host disease (GVHD), where the donor's immune cells attack the recipient's tissue. Medications can prevent and treat GVHD.
There are several subtypes of allogeneic BMTs:
Syngeneic:

Donor and recipient are identical twins with the same genes. The tissues match perfectly, resulting in fewer complications.



Cord blood:

This type of transplant uses umbilical or cord blood. It may not require a perfect tissue match.



Nonmyeloablative/reduced intensity:

We combine less-toxic chemotherapy treatment and stem cell transplant. This allows the donor's white blood cells to launch an immune response to destroy your cancer cells, called the graft-versus-tumor effect.



Haploidentical transplant:

You may receive blood stem cells from a related donor whose tissue half-matches yours. Benefits of haploidentical transplant include more available donors and shorter wait times. Transplants can be done in 2-3 weeks instead of several months.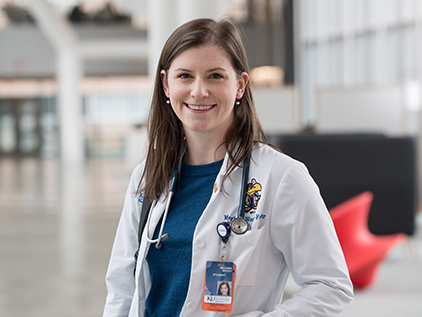 Cancer survivor, future physician
Meghan Woody-Fowler was 19 when she was diagnosed with acute myeloid leukemia. Now in her residency after completing medical school, she plans to help future patients.
Meghan's story
Related links