Skip Navigation
Blood and Marrow Transplant
Your BMT Care Team
Our blood and marrow transplant (BMT) specialists are nationally recognized hematologists/oncologists. As leaders of our program, they conduct clinical research and clinical trials to develop innovative treatment plans. Our physicians specialize in treating all types of cancerous and noncancerous blood disorders for hospitalized patients and outpatients.
You will receive comprehensive, compassionate care from your first evaluation to preconditioning chemotherapy through your transplant, follow-up and survivorship care.
We have been Medicare-approved since 1977, when our BMT program began. The National Marrow Donor Program designated our program an approved collection center in 2010. And we are the region's first bone marrow and peripheral blood stem cell transplant program accredited by the Foundation for the Accreditation of Cellular Therapy. We have completed more than 3,700 BMT procedures and are among the top 15 BMT programs in the nation.
Blood and marrow transplant team members
Physicians
BMT physicians determine the best treatment option for your condition and will manage your care throughout the transplant process.
Nurse practitioners
BMT nurse practitioners work closely with BMT physicians to guide your daily care and treatment of your diagnosis. They also provide treatments to help control any symptoms you may experience.
Transplant coordinators
Our coordinators are registered nurses specially trained to care for BMT patients. Coordinators prepare you for transplant, schedule your clinic visits, monitor test results and help you understand your medications. They are the primary contacts for you and your family members.
Financial coordinators
Financial professionals explain your options for covering the cost of BMT. They work with Medicare, Medicaid or private insurance to help determine coverage for your treatment and care. They also can help you find other financial resources, if needed.
Social workers
Licensed professional social workers provide counseling and support to you and your family when you need it. Services include:
Determining whether you have adequate caregiver support
Helping you and your family understand your condition and the transplant process
Working with our licensed psychologists to help you with any emotional or family issues
Helping you access community resources such as support groups, transportation and lodging
Pharmacists
Our pharmacists will instruct you and your family about the medications you will take before and after your transplant. They can also assist you with your daily medication schedule.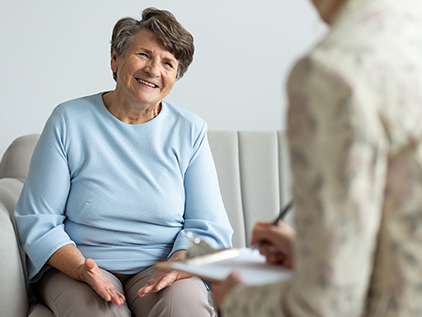 Treating cancer with more than medicine
Our approach to cancer care includes support services for the mind, body and spirit. Research shows this approach provides better outcomes.
Whole person care
Request your appointment today.
To make an appointment at The University of Kansas Cancer Center, call 913-588-1227.
Related links