Skip Navigation
Blood and Marrow Transplant
Blood and Marrow Transplant Evaluation and Preparation
Each step of the blood and marrow transplant (BMT) process is important. And every BMT team member works to provide compassionate, state-of-the-art care to meet your needs every step of the way.
We work closely with you, your family and your primary doctor. Our experienced BMT specialists will manage your care from your first evaluation and preconditioning chemotherapy to transplant and follow-up. They may also provide you with access to clinical trials for your condition. We combine research, education and patient care to ensure the best possible outcomes.
Patient evaluation
We evaluate each patient to determine if blood and marrow transplant is the best treatment option.
BMT physicians will assess your overall medical condition and discuss all viable treatment options with you. Your transplant team will schedule tests to determine your specific disease, your general health and your tolerance for high doses of chemotherapy.
The types of tests depend on your specific condition and may include:
Bone marrow test: Takes a sample of bone marrow for examination.
Bone scan: A radioactive tracer shows injury, infection, healing or disease of the bone.
Computed tomography (CT): CT is a noninvasive procedure that makes detailed, 3D images of bone, organs and soft tissue in any part of the body.
Dental evaluation and X-rays: These tests ensure there is no mouth or dental infection.
Electrocardiogram (EKG): An EKG evaluates the electrical activity of your heart.
Laboratory blood work: This may include a tissue-type test and viral studies for infectious diseases such as HIV and hepatitis.
Magnetic resonance imaging (MRI): Painless and noninvasive, MRI uses a magnetic field to make 2D and 3D images of the body.
Positron emission tomography (PET): PET scans are often used to evaluate blood flow and organ function.
Pulmonary function and arterial blood tests: A breathing device measures lung function and an arterial blood sample shows how efficiently the lungs use oxygen.
Radionuclide ventriculogram: This noninvasive heart test measures the strength of the heart muscle.
Skeletal survey: This X-ray procedure can find bone lesions in selected parts of the skeleton.
After the initial tests, your BMT physician will meet with transplant physicians, radiation oncologists, transplant nurse coordinators and experts from other medical specialties throughout our hospital. These experts will discuss all aspects of your care and assess all viable treatment options. This helps us develop the best course of care for your condition.
Donor evaluation
We also evaluate related donors before stem cell collection. This is similar to the patient evaluation and may include an electrocardiogram, chest X-ray and blood tests.
Unrelated donors who are registered with Be the Match on the bone marrow registry are evaluated in their home cities before they donate.
Preconditioning for blood and marrow transplant
For blood or marrow stem cell transplants, you'll receive chemotherapy and/or radiation therapy in much higher doses than standard therapy. This destroys diseased cells and also normal cells, which allows transplanted stem cells to develop new healthy blood cells. Preconditioning takes 2-15 days. Transplanted stem cells then replace cells destroyed by preconditioning.
Side effects of preconditioning may include:
Chemotherapy and/or radiation therapy can cause diarrhea. Antibiotics you receive may also aggravate the condition. Anti-diarrheal medications can help.

You may experience fever and chills. Acetaminophen can treat your fever. If you experience a fever higher than 100 F, call your doctor or a member of the transplant team.

Cancer and cancer treatment may affect your appetite. Two common changes you may notice as a result of chemotherapy are feeling less hungry and finding that some foods may taste different. Our dietary experts can help you with meal planning to provide the nutrition you need.

Effects of chemotherapy on cells lining your mouth can cause sores. We may prescribe medicated mouth rinses and pain medication.

Chemotherapy or radiation can cause nausea that affects your appetite. Because nutrition is extremely important to recovery, be sure to eat throughout your treatment. Our nutritionists can help you determine a diet suited to your condition.

Chemotherapy or radiation may cause skin changes such as dryness, flaking, discoloration and/or darkening and sensitivity to sun exposure. Report any new rash and any increased redness, pain, itching or changes in the texture of your skin, such as thickening.

This can be a long-term side effect of high-dose chemotherapy. Before treatment, men may choose to store their sperm in a sperm bank. Women may have embryos frozen and stored. An experimental option for women is to have unfertilized eggs frozen and stored. Our fertility preservation services assist those who want to preserve fertility before beginning cancer treatment.

You may experience hair loss 7-21 days after treatment begins, depending on the type of preconditioning. Your hair will start to grow back after your last round of treatment.
Peripheral blood and marrow stem cell collection
Peripheral blood stem cells and blood-forming stem cells are the 2 types of stem cells used for blood and marrow transplant. Each type requires a different collection procedure.
Peripheral blood stem cells
Collecting peripheral blood stem cells is an outpatient procedure. Using peripheral blood stem cells has become more common for BMT because donors don't require general anesthesia during collection.
During the collection procedure (called apheresis), we draw donor blood into a vessel and separate the stem cells. The remaining blood is returned to the donor. Before and during collection, the donor will have injections of protein growth factors. Called mobilization, this stimulates the bone marrow to increase the number of stem cells in the blood.
Collecting stem cells for autologous transplant takes 3-5 days. For allogeneic transplant, it takes 1-2 days. For both types, collection takes about 4-5 hours a day.
Bone marrow stem cell collection
We collect bone marrow stem cells from the donor's pelvic bone and freeze them until the time of transplant. This type of collection usually takes 1 day. It is an inpatient procedure that requires general anesthesia. Afterward, the donor usually stays overnight in the hospital.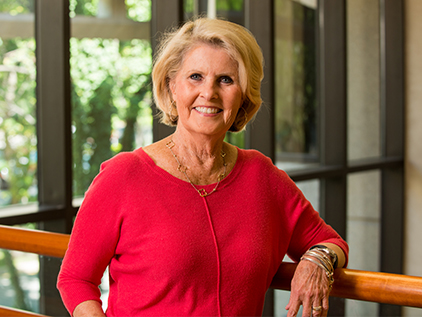 Rising to the challenge
Anne Holzbeierlein was diagnosed with acute myeloid leukemia (AML). Two years later, she credits the power of research for her remission.
Anne's story
Related links