Skip Navigation
Blood and Marrow Transplant
Becoming a BMT Donor
Stem cell donors are crucial to a successful blood and marrow transplant. Their donation of marrow or peripheral blood stem cells helps save the lives of thousands of critically ill patients.
Anyone age 18-40 who meets the required health guidelines and is willing to donate to any patient in need can register to become a donor. Everyone on the registry is critical to saving lives. For all registry members, the most important thing you can do is stay committed, so if you're selected as a match for a patient, be sure you're ready to move forward.
The only BMT patients who do not require a donor are those who can use their own stem cells for transplant (autologous stem cell transplant). All other BMT patients require stem cells from a donor with matching tissue. About 70% of bone marrow transplant patients do not have a fully matched donor in their family and turn to the registry to find an unrelated donor.
If you need a stem cell transplant, you are not responsible for finding your own donor. If you require a matching donor for BMT, your transplant team at The University of Kansas Cancer Center will find a donor for you. If one of your siblings is a match, he or she can donate. If not, we will search the Be The Match Registry® to find a matching unrelated donor. Every donor search through Be The Match provides access to more than 39 million potential donors on the U.S. and global registries.
All donors, including relatives, receive a thorough physical exam. This may include laboratory blood tests, MRI and a bone scan. This ensures your safety as well as the transplant recipient's safety.
Guidelines to donate
To become a bone marrow or stem cell donor, you must join the Be The Match Registry, the most diverse marrow and stem cell registry in the world. To join, you must meet specific medical requirements that include restrictions on age and general health to determine if you are eligible to be a donor.
Your tissue type, determined by a cheek cell swab, is stored when you join the registry, and you will donate marrow or stem cells only if you are determined to be a match for someone in need of a transplant.
Questions and answers about stem cell donation
A: BMT can be a lifesaving treatment for people with blood cancers like leukemia and lymphoma, and other blood disorders like sickle cell anemia.

First, transplant recipients have chemotherapy and sometimes radiation to destroy their diseased marrow. Next, we transplant a donor's healthy blood-forming cells directly into the recipient's bloodstream, where they begin to function and multiply.

A: The first step to become a donor is to join the

Be The Match Registry

. Doctors around the world search this registry to find matches for their patients. If a doctor selects you as a match for a patient, you may be asked to donate bone marrow or cells from circulating blood (called peripheral blood stem cell donation).

A: We may ask donors to donate in one of 2 ways:

Bone marrow donation is a surgical procedure in which we withdraw liquid marrow from the back of the donor's pelvic bones using needles. We always use anesthesia for this procedure, so donors feel no pain during marrow donation. Donors may feel mild pain or discomfort in their lower back for a few days or weeks afterward.
Peripheral blood stem cell (PBSC) donation involves removing a donor's blood through a needle in one arm. The blood is passed through a machine that separates the blood, collecting the cells used in transplants. The remaining blood is returned to the donor in their other arm.

A: When you join the Be The Match registry, you make a commitment to:

Donate to any searching patient who matches you
Respond quickly if you are contacted as a potential match for a patient
Be listed on the directory until your 61st birthday, unless you ask to be removed
Keep the registry updated if your contact information changes, you have significant health changes or you change your mind about being a donor

You have the right to change your mind about being a donor at any time. Donating is always voluntary. If you decide you do not want to donate, contact the registry right away. That way the search for another donor can continue without dangerous delays for a patient.

A: Yes. When more than one potential donor is a good match for a patient, doctors will consider other factors, including the donor's age. Doctors choose donors based on what is best for the transplant recipient.

Under age 18: If you're not yet 18, you aren't eligible to join the registry. You must be 18 to donate because donation is a medical or surgical procedure, and you need to be legally able to give informed consent. Because donating unrelated bone marrow is a voluntary procedure, a guardian or parent cannot sign a release or give consent for someone under age 18. You can, however, sign up for the under 18 pre-registry.
Age 18-40: This is the age range in which you are most likely to be called to donate. Research shows that cells from younger donors lead to more successful transplants. Doctors request in the 18-35 age group nearly 75% of the time.
Age 41-60: Be The Match values your commitment to our mission. However, if you're older than 40, Be The Match is unable to add you to the registry due to the age requirements. Studies show that patients who receive blood stem cells from younger donors have a better long-term survival rate. The safety of both patient and donor is the biggest priority. You can, if you are over age 40, join the Be The Match community as a champion to discover other ways to support the mission.

It is important to note the age limit is not meant to discriminate in any way. Age guidelines are in place to protect donors and provide the best treatment for patients. Research shows that cells from younger donors lead to more successful transplants.

A: Yes. Because tissue types used in matching are inherited, you are most likely to match someone of the same ethnic ancestry or ethnic background. Adding more members who increase the ethnic diversity of the registry increases the variety of tissue types available, helping more patients find the match they need.

To increase the diversity of the registry, donors are especially needed who identify as:

Black/African American
American Indian or Alaska Native
Asian, including South Asian
Native Hawaiian or other Pacific Islander
Hispanic or Latinx
Multiracial
Levi Korneli Be The Match Story
Stem cell donation myths and facts
MYTH: All donations involve surgery.
FACT: The majority of donations do not involve surgery. Today, the patient's doctor most often requests a peripheral blood stem cell (PBSC) donation, which is nonsurgical. The second way of donating is marrow donation, which is a surgical procedure. In each case, donors typically go home the same day they donate.
MYTH: Donating is painful and involves a long recovery.
FACT: There can be uncomfortable but short-lived side effects of donating PBSC. Due to taking a drug called filgrastim for 5 days leading up to donation, PBSC donors may have headaches, joint or muscle aches or fatigue. PBSC donors are typically back to their normal routine in 1-2 days.
Those donating marrow receive general or regional anesthesia, so they feel no pain during donation. Marrow donors can expect to feel some soreness or discomfort in their lower back for a few days or weeks. Most marrow donors are back to their normal activities in 2-7 days.
MYTH: Donating is dangerous and weakens the donor.
FACT: Though no medical procedure is without risk, there are rarely any long-term side effects to becoming a bone marrow donor. Be The Match carefully prescreens all donors to ensure they are healthy and the procedure is safe for them. We also provide support and information every step of the way. Because only 5% or less of a donor's marrow is needed for a successful transplant, the donor's immune system stays strong and the cells replace themselves within 4-6 weeks.
MYTH: In bone marrow donation, pieces of bone are removed from the donor.
FACT: No pieces of bone are required for marrow donation. To save the patient's life, a successful transplant needs only the liquid marrow found inside the donor's pelvic bone.
MYTH: Donors have to pay to donate.
FACT: Donors never pay to donate. Be The Match Registry will reimburse travel costs and may reimburse other costs on a case-by-case basis, including meals and travel for the donor and one companion. Medical costs for the donation procedure will be covered by either the receiving patient's medical insurance or Be The Match.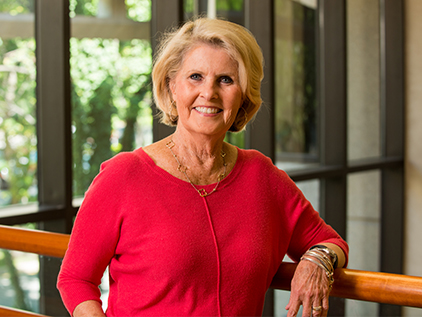 Rising to the challenge
Anne Holzbeierlein was diagnosed with acute myeloid leukemia (AML) and needed a bone marrow transplant. Thanks to a clinical trial, she's cancer-free.
Anne's story
Request your appointment today.
To make an appointment at The University of Kansas Cancer Center, call 913-588-1227.
Related links