Skip Navigation
Blood & Marrow Transplant
Blood and Marrow Transplant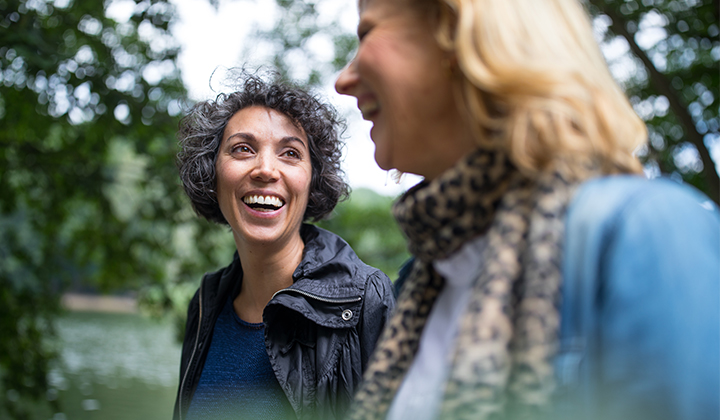 Blood and marrow transplant (BMT) is a lifesaving therapy for people with cancerous blood disorders such as leukemia and multiple myeloma. Since our first transplant in 1977, we have established a proven record of success. Ours is the region's largest BMT program.
Blood and marrow transplant specialists at The University of Kansas Cancer Center are nationally recognized hematologists/oncologists. Through research and clinical trials, we constantly develop new therapies to save more lives.
BMT uses healthy blood-forming cells from bone marrow or the bloodstream to rebuild a healthy blood supply. Different types of blood and marrow transplant may use your own cells for transplant or may use donor-provided cells.
Today, patients pursuing transplant have much shorter wait times for a donor. BMT specialists at
The University of Kansas Cancer Center have made advances in haploidentical transplants, or half-matched transplants. This has increased the number of possible donors and makes patient-donor matches almost immediate, helping even more people.
Blood disorders treatable by transplant
We provide blood and marrow transplant for the full spectrum of blood disorders, cancers and solid tumors, including:
Aplastic anemia
Ewing sarcoma
Severe combined immune deficiency (SCID)
Testicular cancer or germ cell tumors
Waldenstrom macroglobulinemia (a type of non-Hodgkin lymphoma)
Patients with blood cancers or noncancerous blood disorders usually receive BMT after chemotherapy or radiation treatment.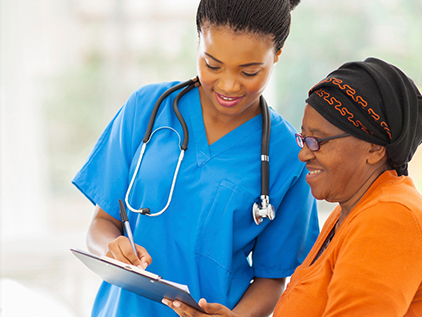 Choosing a Blood and Marrow Transplant Program
You have options when it comes to selecting your partner in treatment for cancerous and noncancerous blood disorders. The process can be overwhelming, but the decision is crucial to achieving the best possible outcome. Download our checklist to help you research your choices.
Download checklist here
Comprehensive outpatient and inpatient BMT care
The Richard and Annette Bloch Cancer Care Pavilion is a comfortable, convenient and safe setting for comprehensive outpatient blood and marrow transplant care. We provide BMT services designed for the unique needs of hospitalized patients and their loved ones.
We partner with you, your family and your healthcare providers and are dedicated to providing compassionate, high-quality care to meet your needs. Our combination of research, education and patient care ensures the best possible outcome. Our trained BMT nurses and support staff help you with every aspect of the transplant survivorship journey, including nutrition, managing side effects and emotional support.
Lodging and concierge service
If you live outside the Kansas City metro region, you may need to make short- or long-term lodging arrangements. Our dedicated travel consultant and concierge assistant will help you with lodging, transportation and other amenities. Call weekdays from 8 a.m. to 5 p.m., Central Standard Time.
Toll-free at 844-323-1227, then press 4
International callers, dial 00-1-913-588-1227
Ask the concierge to send or email you a Patient Comfort & Travel Guide for information on nearby lodging, dining and other amenities.
Questions to ask your care provider
Receiving a blood cancer diagnosis can be scary and stressful. That's why it's important you take the time to question and understand your options, and to seek a second opinion if you so choose. Please download this series of questions we have created for you to ask your provider before beginning treatment.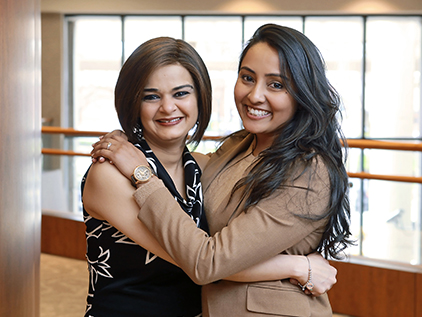 Still going strong
Shruti Kohli was blindsided by a leukemia diagnosis. Exceptional care, a loving family and the selfless gift of a stranger helped her survive.
Shruti's story
Hear Meghan Woody's experience at The University of Kansas Cancer Center, a national leader in blood and marrow transplant and cellular therapy.