Skip Navigation
Jensen Wraps Up Tenure as AACI President
Jensen Wraps Up Tenure as AACI President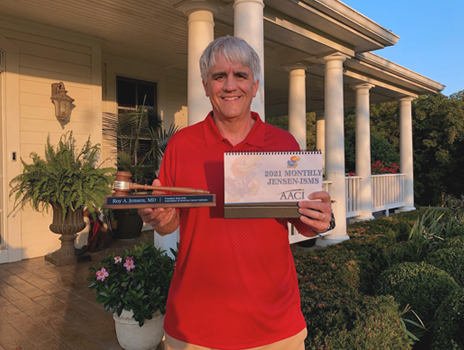 After two years serving as president of the Association of American Cancer Institutes (AACI), Roy Jensen, MD, formally passed the gavel to Karen Knudsen, PhD, Executive Vice President of Oncology Services, Sidney Kimmel Cancer Center at the 2020 annual meeting of the Association of American Cancer Institutes and the Cancer Center Administrators Forum. AACI is comprised of 102 of the leading academic and freestanding cancer research centers in North America.
During his term, Dr. Jensen and AACI members strongly advocated in support of boosting the NCI grant approval payline, the funding cutoff point used to determine which applications are funded. In its 2021 budget proposal, the NCI committed to increasing the payline from the current 8th percentile to the 15th percentile by 2025. This increase is a major investment in the future of cancer research and a necessary step forward in the discovery of new therapies.
It's been an incredible experience — and an honor — serving our members. Dr. Roy Jensen
Dr. Jensen's primary initiative as president was the development of the AACI Public Policy Resource Library, a "one-stop shop" for bills, legislative analysis and additional resources to help AACI members address legislative priorities. Public policy activities, like the Tobacco 21 initiative, are vital tools that help support the advancement of cancer research, treatment and prevention. Pooling these resources allows members to readily develop sound public health policies at the state and local levels.
"I would like to thank the AACI team for their hard work, patience and guidance in support of my duties as AACI president," Dr. Jensen said. "It's been an incredible experience — and an honor — serving our members."
Related links