April 01, 2021
Soon, adults and children who have cancer will not be forced to travel out of state to receive lifesaving proton therapy. The innovative and highly precise radiation therapy will be provided through The University of Kansas Cancer Center, the region's only National Cancer Institute-designated cancer center, beginning in spring 2022.
Construction on the proton therapy site began early in 2020. When completed, The University of Kansas Cancer Center's multimillion-dollar Proton Therapy Center will provide lifesaving treatment for adults and children from throughout the region close to home.

By providing proton therapy here, our cancer patients can remain closer to their home, family and much-needed support systems. The University of Kansas Cancer Center's Proton Therapy Center will be the first in Kansas and in our region. There are no proton centers in Iowa, Nebraska, Colorado and Arkansas. There are currently 38 proton therapy centers in the United States.
To learn more about the most advanced and precise form of radiation therapy available today, we visited with Ronny Rotondo, MDCM, FRCPC, medical director of proton therapy at the cancer center.
Q. What is proton therapy?
A. Proton therapy is a form of external beam radiation that uses energized protons to deliver radiation to a tumor, whereas conventional radiation uses X-rays or photons. When photons interact with tissue during treatment, they deposit a significant dose of radiation along the entrance path to the tumor, within the tumor target and beyond the tumor as they exit the other side of the body. This results in the delivery of unnecessary radiation to healthy tissues and organs and leaves a trail of potential injury to healthy tissue beyond the tumor target.
With proton therapy, energized protons interact with healthy tissue differently. There is a lower dose along the entrance path to the tumor and most of the radiation is deposited within the tumor target. Beyond the target, there is no exit dose; radiation does not travel beyond the target. This allows us to target and focus the radiation much more precisely, concentrating radiation in the tumor, where it will benefit the patient, and minimizing radiation to the surrounding healthy tissue.As a result, proton therapy may offer patients the possibility of fewer side effects and improved quality of life, both during and after treatment.
Q. What types of cancer does proton therapy treat?
A. Proton therapy is beneficial for treating most localized solid tumors/recurrent tumors that are close to critical organs/structures because it provides such focused and precise delivery. This includes tumors of the ocular area, brain, skull base, spine, sinonasal and head and neck, and hepatobiliary system (liver, gallbladder, pancreas).
It's especially beneficial in treating pediatric cancers, as children are particularly sensitive to the effects of radiation and even low doses can have a significant impact on their growth and development. Lower radiation dose to the body also means we may be able to significantly decrease the risk of a secondary radiation-induced tumor. In pediatric patients, proton therapy may be beneficial to treat a wide variety of tumors including tumors of the brain, skull base and spine, chest, abdomen and pelvis, and most tumors that are close to sensitive structures such as the heart or spinal cord.
Overall, a variety of patients can benefit from this type of treatment, and we continue to investigate additional therapeutic opportunities where proton therapy may be appropriate.
Proton therapy may be beneficial for treating cancers of the:
Central nervous system
Eyes
Lymphatic system

Recurrent tumors (reirradition)
Q. How is proton therapy different from photon radiation treatment?
A. Traditional radiation delivers X-rays, or beams of photons, to the tumor and beyond it. This can damage nearby healthy tissues and cause serious side effects. In contrast, proton therapy delivers a beam of proton particles that stops at the tumor, so damage to nearby healthy tissue is minimized.
Proton therapy vs. conventional X-ray
Targeted proton therapy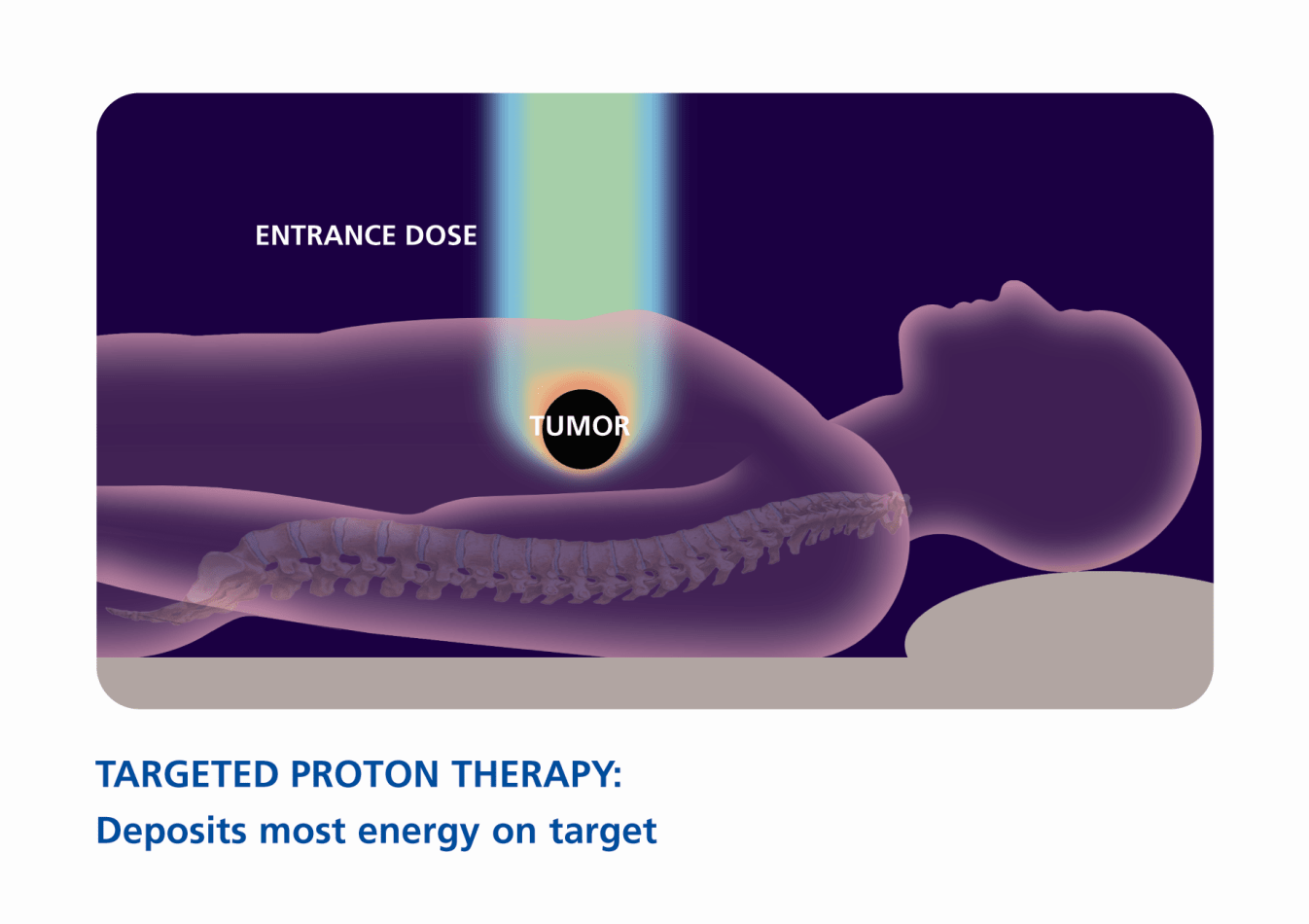 Conventional radiation therapy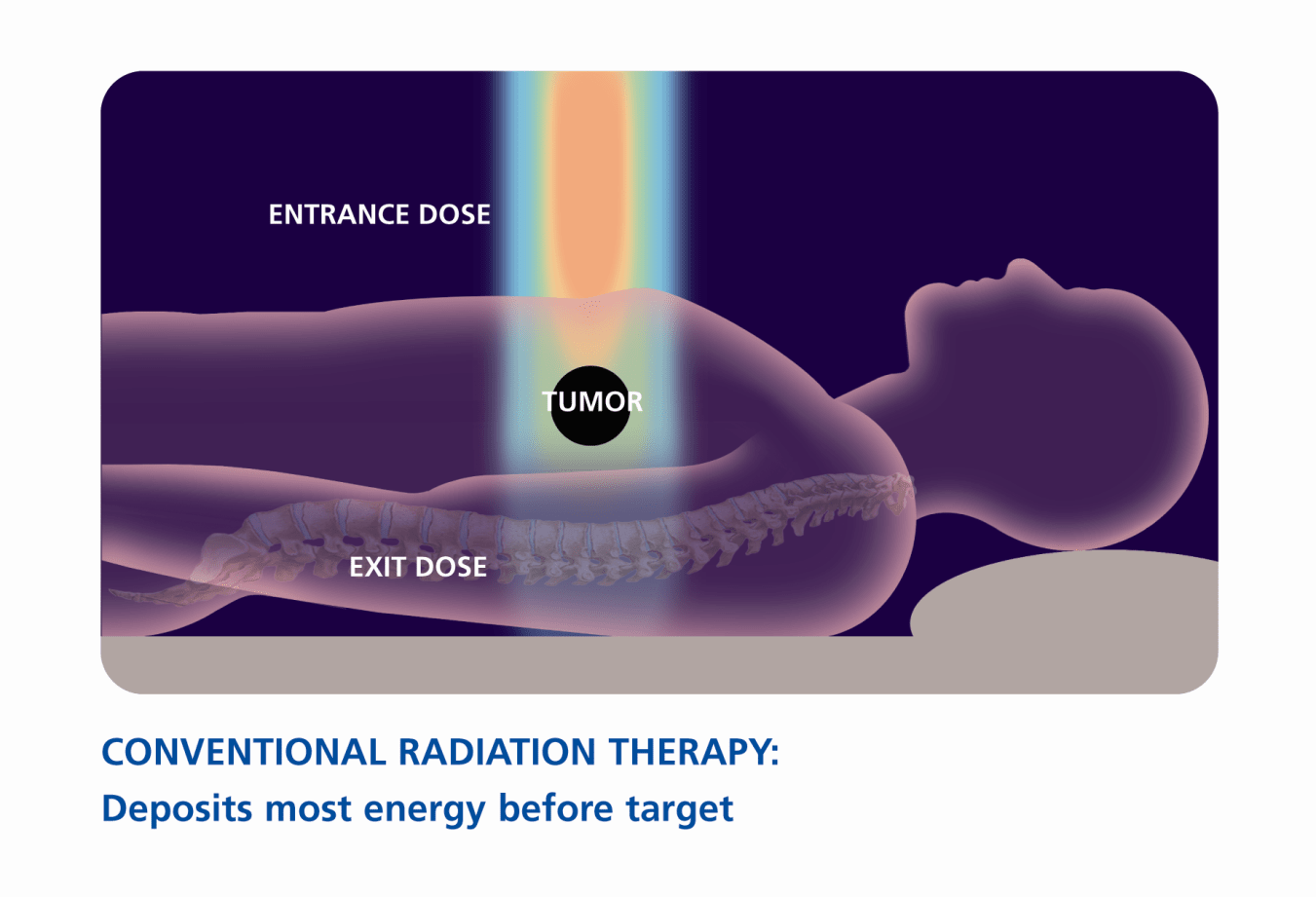 Q. Who is eligible for proton therapy?
A. As was mentioned previously, there are commonly recognized indications for proton therapy. That said, each case must be evaluated separately, with all factors considered. Just because a patient has a type of cancer that can be treated with proton therapy does not mean that patient will benefit from this type of treatment.
We are available and happy to meet with patients to discuss their cancer diagnosis to determine what type of treatment will benefit them most. We encourage anyone who has received a cancer diagnosis to contact us so we can discuss treatment options best suited to their situation. The University of Kansas Cancer Center is the only center in this region that will be able to offer every treatment option available – so that each patient can receive the most appropriate type of radiation treatment, including proton therapy, for their diagnosis.
Q. When will you start offering proton therapy?
A. We expect to begin treating patients in early 2022.
Q. Where will your proton therapy treatment be located?
A. The Proton Therapy Center will be located at:
Richard and Annette Bloch Radiation Oncology Pavilion
4001 Rainbow Blvd.
Kansas City, KS 66160
Q. Why is it important to offer proton therapy at an academic medical center with a National Cancer Institute-designated cancer center?
A. NCI-designated cancer centers, such as The University of Kansas Cancer Center, are recognized for their scientific leadership in laboratory and clinical research. In addition to serving communities across the state of Kansas and in western Missouri, our impact is broadened because we integrate training and education for biomedical researchers and healthcare professionals.
We dedicate significant resources toward developing research programs, faculty and facilities, such as proton therapy, that will lead to better and innovative approaches to cancer prevention, diagnosis and treatment. Our renowned cancer experts bring vast knowledge and experience to help patients conquer cancer. That expertise also exists in using proton therapy as a tool to help our patients fight cancer.
By bringing this innovative treatment here, we will also have unlimited opportunities to continue research on proton therapy for new and expanded uses in the future. Proton therapy will benefit adult and pediatric patients alike and further advance our research and education missions as one of the nation's leading cancer centers.
Proton Therapy in Kansas
Dr. Ronald Chen, associate director for health equity at KU Cancer Center, speaks with Dr. Ronny Rotondo, director of Proton Therapy for The University of Kansas Health System, about the future of proton therapy at The University of Kansas Cancer Center
You are not alone.
From diagnosis through treatment and recovery, our nurse navigators are here to help.
Call 913-588-3671 to speak with a nurse navigator.