Skip Navigation
Taking on Tumors with Artificial Intelligence
Taking on Tumors with Artificial Intelligence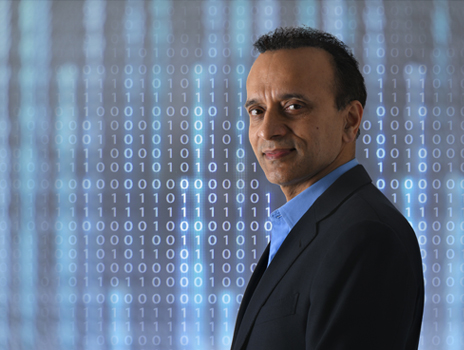 We encounter artificial intelligence (AI) every day. From unlocking your phone with face ID to tweeting to adjusting your "smart" thermostat, AI technology is there. More and more, AI is used across a broad range of industries and disciplines.
The world of cancer research is no exception, according to Prateek Sharma, MD, a gastroenterologist and member of The University of Kansas Cancer Center's Cancer Prevention and Control research program. Its ability to mimic human tasks makes it a potential partner in the lab and the clinic.
"Artificial intelligence and machine-learning technologies could transform the way we approach cancer care," Dr. Sharma said. "We are now at the point where cancer scientists are exploring ways to use it."
Dr. Sharma is chair of the American Society for Gastrointestinal Endoscopy (ASGE) AI Task Force, which was established in 2019. The task force is charged with educating physicians about advances in AI related to endoscopy, as well as partnering with industry experts to identify top priorities in the AI space.
Each year, the ASGE hosts a summit, bringing experts from around the world to discuss the future of AI in gastroenterology. Computer scientists, clinicians, the United States Food and Drug Administration and the National Institutes of Health— people from all disciplines— take part. Dr. Sharma serves as course co-director of the summit.
"This is one of those unique conferences where all stakeholders are involved, from the NIH, the clinic, computer and research labs, as well as huge technology firms like Google, Nvidia and Microsoft," Dr. Sharma said.
An extra pair of eyes
Colorectal cancer is the second deadliest cancer in the United States, and cases are on the rise in younger people. The American Cancer Society recommends that people at average risk of colorectal cancer start regular screening at age 45. Colonoscopy remains the gold standard for catching it early when it is easier to treat. During this procedure, the clinician visually surveys the entire lining of the colon.
Artificial intelligence and machine-learning technologies could transform the way we approach cancer care. Prateek Sharma, MD
Dr. Sharma is working with fellow scientists to compare the effectiveness of routine colonoscopies against colonoscopies paired with AI. In a multisite clinical trial led by Dr. Sharma, the team will compare each methods' ability to detect precancerous polyps. Dr. Sharma is particularly interested in whether AI can better detect flat polyps in the colon, which are more difficult to spot compared to raised polyps. Specialists believe they are to blame for most cases of colorectal cancers that occur in people who are up to date with their colonoscopies.
"Colonoscopy is a great tool to detect precancerous polyps, but it is not perfect," Dr. Sharma said. "AI can support the physician in real-time during a routine procedure. It's like having a second set of eyes in the room."
In the future, Dr. Sharma anticipates that AI use in colonoscopy will not just detect, but also appraise polyp size and depth of invasion. Dr. Sharma expects the technology will move into other areas of the GI tract, including his area of expertise, esophageal diseases.
AI and endoscopy
Endoscopy is a useful tool in the early detection of esophageal diseases such as Barrett's esophagus, a precancerous condition arising from repeated exposure to stomach acid. When this happens, tissue that is like the lining of the intestine replaces the tissue lining in the esophagus. Surveying the esophagus endoscopically helps the clinician determine the degree of dysplasia in the cells. Early pilot trials have shown that AI recognizes Barrett's esophagus and esophageal cancer early in development.
Dr. Sharma's contributions to the understanding of Barrett's esophagus have shaped the way we diagnose and treat the disease. He was recently honored for his research contributions by being named the Elaine Blaylock Cancer Research Professor. This professorship was established by the estate of Elaine Blaylock, and Dr. Sharma is the first to hold it. His expertise in the disease and role on the ASGE AI Task Force, in addition to the cancer center's deep bench of multidisciplinary specialists, puts Kansas City at the center of the AI action.
"Kansas City is an internationally recognized hub of expertise in both Barrett's esophagus and artificial intelligence," Dr. Sharma said.
More human
Engineers and scientists are busy working to simplify existing workflow processes using AI. In the future, Dr. Sharma sees AI as a tool that will allow doctors to focus more on what they love: taking care of patients.
"Spending more time with the patient, holding their hand, talking to their families…these are things doctors should be doing more of," Dr. Sharma said. "We can be so busy that sometimes this gets lost. I think AI may allow us to be more human."
Bench to Bedside: Advances in Esophageal Cancer & Barrett's Esophagus Treatment
Related links