Skip Navigation
A New Tool in the Early Detection of Ovarian Cancer
A New Tool in the Early Detection of Ovarian Cancer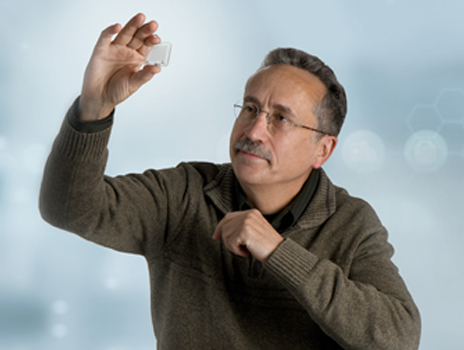 This year, more than 21,000 women in the United States will receive a new diagnosis of ovarian cancer. Although it is the 11th most common cancer among women, it is the deadliest of all gynecologic cancers. About 1.2% of women in the general population will develop ovarian cancer sometime during their lives. Women carrying a deleterious mutation in the BRCA1 or BRCA2 gene, however, have a 44% and 17% chance of developing ovarian cancer in their lifetime, respectively.
Eight out of every 10 cases of ovarian cancers are found at a late stage, when it's much more difficult to treat. According to Andrew Godwin, PhD, deputy director of The University of Kansas Cancer Center, that's unacceptable. Dr. Godwin has dedicated much of his career to finding ways to diagnose ovarian cancer earlier and better treat the disease when found late. A champion of collaborative science, Dr. Godwin is involved in national and international partnerships to advance our understanding of ovarian cancers' origins.
A marriage of technology and biology
High-grade serous carcinoma is the most common type of ovarian cancer, accounting for about 75% of epithelial ovarian cancers. Until recently, scientists believed that this subtype developed in the cells lining the surface of the ovaries. In fact, most of these cases start in the distal end of fallopian tubes, known as the fimbria, which sit atop the ovaries. Finding the cancer cells before they shed to the ovaries is the key to higher survival rates, according to Dr. Godwin.
"Studies suggest the earliest forms of the cancer stay in the fallopian tubes for years before migrating to the ovaries," Dr. Godwin said. "It's likely advanced once it's discovered. For women at high risk for ovarian cancer, this is an opportunity to catch cancer earlier using just drops of blood."
Dr. Godwin partners with biomedical engineers, including Steven Soper, PhD, Foundation Distinguished Professor at the University of Kansas, and Yong Zeng, PhD, Associate Professor at the University of Florida, on many of his projects. By marrying technology with cancer biology, the team has developed novel lab-on-a-chip devices that detect exosomes.
This could have an incredible effect on women who are considering having their ovaries removed prophylactically. It's about giving them choices. Andrew Godwin, PhD
Dr. Godwin and his team have identified small extracellular vesicles, or exosomes, that hint at cancerous cells developing in the fallopian tubes. Exosomes in blood and other bodily fluids can serve as biomarkers for early warning signs of cancer. With a simple blood draw and a credit card-sized chip, a woman may avoid surgery to have her fallopian tubes and ovaries checked for tumors. If cancer is found early enough, the tubes can be removed, and the ovaries are left intact. For young women carrying a mutant BRCA1 or BRCA2 gene, it's an opportunity to preserve their fertility and avoid early menopause.
"This could have an incredible effect on women who are considering having their ovaries removed prophylactically," Dr. Godwin said. "It's about giving them choices."

Funding from third-party organizations, including the OVERRUN Ovarian Cancer Foundation, Ovarian Cancer Research Alliance and Honorable Tina Brozman Foundation supported Dr. Godwin's early efforts to identify exosome-associated ovarian cancer biomarkers. In 2021, he and Dr. Zeng received a $3.1 million grant from the National Cancer Institute (NCI). With this grant, Drs. Godwin, Zeng and their teams will confirm their biomarker panels and lab-on-a-chip technology can detect ovarian cancer in its earliest stages.
Longitudinal samples
A decade ago, Dr. Godwin established the Early Detection Program within The University of Kansas Cancer Center's BioBank, which contains blood samples from women undergoing their annual mammograms at the cancer center. Year to year, healthy women consent to have their blood drawn and note any changes to their health. The program's bank now holds samples from nearly 6,000 women and counting. Researchers across the cancer center and globe have access to the samples and are working on a variety of projects to advance personalized medicine. For Dr. Godwin, these longitudinal samples will help validate the lab-on-a-chip technology.
"If a participant develops cancer over the course of the study, we can go back and screen those prior samples with our blood-based test and determine if our test can detect the cancer before overt symptoms and a clinical diagnosis," Dr. Godwin said.
The group's current tests can distinguish women with and without cancer nearly 100% of the time. Yet, Dr. Godwin noted, it isn't very helpful if it can only detect late-stage cancers. Ovarian cancer is referred to as the disease that "whispers." Too often, women overlook the symptoms, and the disease is advanced by the time it's diagnosed. The tiny channels of the lab-on-a-chip isolate the microscopic exosomes and detect their associated biomarkers, which signal the presence of cancer before symptoms arise.
Passion and collaboration
Most doctors recommend that women with an inherited BRCA1 or BRCA2 mutation have surgery to remove their ovaries once they've finished having children. Dr. Godwin envisions that, someday, this noninvasive test will offer these women an alternative.
Though Dr. Godwin stays busy pursuing breakthroughs, he does make time rooting for his alma mater, the University of Kansas. In 2021, he and his wife, Cecilia, received the Rich and Judy Billings Spirit of 1912 Award. The annual award recognizes alumni of the University of Kansas who display school spirit, pride and tradition. He credits the University of Kansas for providing a wonderful education and a strong foundation in cellular and molecular biology.
"The only way we will improve survival rates is by working together. I'm not the expert on everything. I work with people who have different capabilities and knowledge," Dr. Godwin said. "In my mind, science must be a team sport."
Related links