Skip Navigation
A Bright Future, Bold Vision
A Bright Future, Bold Vision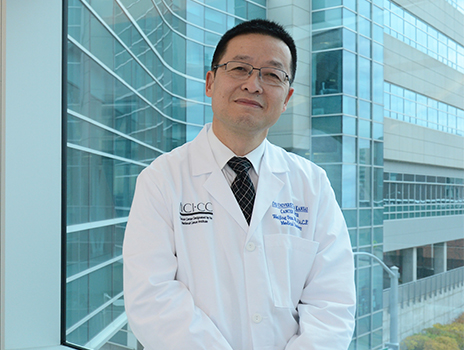 This past September, The University of Kansas Cancer Center made a giant leap forward in its quest to further enhance its position as a national leader in cancer research and care.
Weijing Sun, MD, joined The University of Kansas Cancer Center as division director of medical oncology and associate director for clinical research. As associate director for clinical research, Sun will be pivotal in further expanding our clinical research efforts, as well as charged with overseeing the cancer center's portfolio of support and infrastructure for clinical investigators. As medical oncology division director, Sun will oversee the growth and development of The University of Kansas Cancer Center's faculty and ensure they are ready to meet the daunting challenges posed by cancer in the 21st century.
This professorship was funded through a lead gift from the Sprint Foundation, with additional support from the Hall Family Foundation.
Roy Jensen, MD, director of the The University of Kansas Cancer Center, praises Sun as an internationally renowned gastrointestinal oncologist who has played a key role in defining the current approach to treating a range of GI malignancies.
"Dr. Sun did an outstanding job building a strong team focused on the multidisciplinary care of patients with cancer during his time at the UPMC Hillman Cancer Center and Penn Medicine's Abramson Cancer Center. And his proven track record of mentoring young faculty is essential to the further growth of our cancer center," Jensen says.
A focus on research
Prior to joining The University of Kansas Cancer Center, Sun served as a professor of medicine in the division of medical oncology at the University of Pittsburgh, as well as director of the gastrointestinal cancers section of hematology-oncology and codirector of the UPMC Gastrointestinal Cancer Center of Excellence.
Sun spent many years early on in his career doing research at the bench. As a fellow, he chose to focus on gastrointestinal cancer because at the time there was only one systemic therapy agent available for patients with this type of cancer.
It was The University of Kansas Cancer Center's talented team, impressive drug discovery and clinical research programs, as well as clinical trial accruals, that ultimately swayed Sun to join the The University of Kansas Cancer Center team. He intends to further strengthen and capitalize on these key attributes in his new role.
Sun points out that in order to quickly move new therapies from bench to bedside, national pharmaceutical and drug development companies need to recognize the depth and breadth of the cancer center's resources.
"We have a unique state-of-the-art facility, the Clinical Research Center, as well as a sophisticated drug delivery team," Sun says. "We need to bring these drug developers to the center of the country so they can see what we are doing."
The University of Kansas Cancer Center's basic scientists and clinicians work closely together, bridging the gap between the laboratory and application in the clinic. The path to market, Sun notes, is becoming increasingly streamlined, and the cancer center makes for an ideal partnership with pharmaceutical companies.
Building and strengthening The University of Kansas Cancer Center team is another initiative on Sun's list. Researchers who also see patients in the clinic, called physician-scientists, must balance their time between providing patient care and performing research.
"Not only do we follow and uphold the standard of cancer care, we also redefine and establish that standard. The research is what differentiates us," Sun says.
Therefore, it is important to grow a culture that empowers investigators to make the time for their research.
"Research is an investment. If an investigator takes the time to write grants and proposals but doesn't receive it, it should not be viewed as a loss. Failure can be a part of the research process towards success. We need to reward and protect these efforts." Sun says. This kind of approach makes for loyal and passionate employees, who in turn can become The University of Kansas Cancer Center's best spokespeople.
"We dedicate our lives to finding better ways to treat cancer. We are in the lab, in the clinic, at conferences, writing papers and serving on journal review boards. We are out there representing The University of Kansas Cancer Center," Sun says.
Sun points out that this is another tactic in not just empowering people, but also elevating The University of Kansas Cancer Center's reputation locally and nationally.
Sun's vision, which includes fostering a research-friendly environment, recruiting bright and talented physician-scientists and expanding clinical trial offerings, centers around one thing: the patient.
"We are not just following standard of care at The University of Kansas Cancer Center; we are creating the future standard of care," Sun says. "Our patients deserve the very best."
Related links