Skip Navigation
A New Chapter in Pediatric Cancer Research
A New Chapter in Pediatric Cancer Research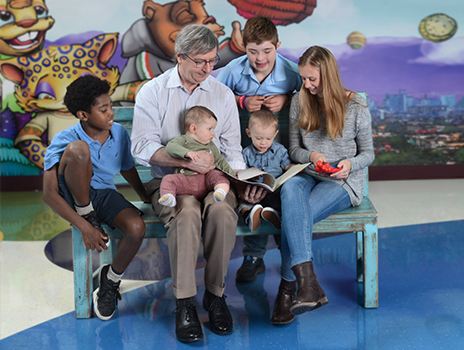 In 2017, the National Cancer Institute recognized Children's Mercy as a formal consortium partner of The University of Kansas Cancer Center. Together, we are working to advance childhood cancer research.
Tom Curran, PhD, FRS, chief scientific officer and executive director of Children's Mercy Children's Research Institute, discusses this alliance and what it means for the future of childhood cancer therapy.
As physicians and scientists, we have a moral obligation to learn from every patient encounter to improve the care and outcome for the next child.
Childhood cancer is the No. 1 killer by disease among children. This year alone, an estimated 15,270 children and adolescents will be diagnosed with cancer and 1,790 will die of the disease, according to the National Cancer Institute. Despite these heartbreaking stats, only 4% of the National Institute of Health's budget is dedicated to children's cancer research.
It is unacceptable that children have to wait until new approaches are pioneered or tested out on adults before they have access to those concepts and ideas. The only way we're going to provide a brighter future for these children is through a robust translational research enterprise focused on developing groundbreaking treatments.
Translational research embodies the entire continuum of care from bench to bedside and back. This includes basic research discovery, implementation of new approaches in clinical trials and disseminating new treatments into everyday practice. And we're on the cusp of making great strides in translational research right here in our own backyard.
In 2015, Children's Mercy established the Children's Research Institute dedicated to conducting pediatric translational research. While we support research broadly, we're building on our strengths in clinical pharmacology, health services and outcomes research, innovation in healthcare delivery and genomic medicine. Genome sciences is an exciting area in cancer research right now. If you look at all the genes in the genome, you can find one that is defective in cancer that allows for a treatment choice you wouldn't have otherwise had. This is just one of the areas where we can make a difference.
Communication is also paramount to the success of the program. Clinicians and scientists need to work in tandem, sharing information in real-time, not only within the Children's Mercy organization, but with our peers here in Kansas City.
That's why we teamed up with The University of Kansas Cancer Center to identify collaborative ways to explore medical innovations and increase pediatric research efforts that would benefit children with cancer. Last year, we combined our pediatric oncology departments. And this summer, the cancer center announced the renewal of its National Cancer Institute (NCI) designation as well as the approval of Children's Mercy as an official consortium partner.
Together we want to support projects based on really strong science that are ready to make the transition to the clinic. That's the hardest part of what we call translational cancer research. Translational cancer research translates scientific knowledge into medical advances.
We are dedicated to becoming a leader in pediatric translational research and making Kansas City a world-class research destination. It is this commitment that will lead to breakthroughs in treating, diagnosing and preventing complex childhood diseases.
We have an opportunity to change the lives of children by conducting research that will deliver cures, understanding or diagnostics that go beyond the individual patient. So, in a sense, by treating 1 child here at Children's Mercy, we may impact thousands elsewhere.
My personal goal is to deliver medicines to children that take advantage of the very latest science. By learning from our patients, particularly those whose needs are not being met by the existing standard of care, we will constantly strive to move medicine forward. We owe it to our children to be the best, and to provide access to the latest science and technology.
Related links