Skip Navigation
A Driving Force in the Community
A Driving Force in the Community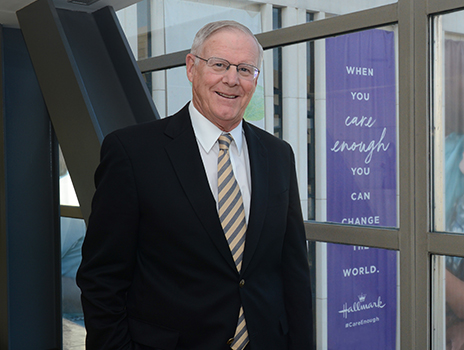 It's been about 15 years since the University of Kansas Medical Center set its sights on achieving National Cancer Institute (NCI) designation. Since this goal was initially declared, and then achieved in 2012, it has served as the impetus to many other milestones.
Something this ambitious isn't possible without committed supporters. Over the years, leaders within the institution and broader Kansas City community have helped take on the bold challenge, advocating and guiding at every step.
Bill Hall has been one of those stalwart figures in the cancer center's evolution. The Hall Family Foundation's early backing has not only made a significant impact to the institution, but also rippled through the region, transforming Kansas City's biomedical community.
Filling in the pieces of the puzzle
The journey to NCI designation began with a conversation with leaders at the Stowers Institute for Medical Research.
"They said that in order for their institute and the greater community to stay competitive in the biomedical industry, we first needed a local NCI-designated academic partner," Hall says.
This unmet need was the perfect fit for the Hall Family Foundation, which views its primary function as that of a catalyst. It supports innovative initiatives while striving to create permanent solutions to community needs.
Buy-in from the University of Kansas was one early hurdle. Robert Hemenway, who was chancellor at the time, made NCI designation the institution's No. 1 priority.
"At a university where there are so many important initiatives, he stood his ground. That's a tough thing to do. Chancellor Hemenway deserves a lot of credit for putting his shoulder behind this," Hall says.
Like piecing together a jigsaw puzzle, the Hall Family Foundation and other supporters began to assemble the necessary components of the center.
One of the most important pieces to the puzzle? A visionary leader.
"When Roy Jensen visited we saw his passion," Hall reflects. "We were convinced we had the right person in order to have a chance at achieving NCI designation."
Other pieces fell into place, including the passing of the Johnson County Education Research Triangle one-eighth-cent sales tax, which funded the cancer center's Clinical Research Center (CRC) that houses early-phase clinical trials. In 2010, the Hall Family Foundation committed $18 million to The University of Kansas Cancer Center, with $12 million earmarked to recruit scientists and researchers. The remainder financed the CRC.
The Hall Foundation also played an integral role in bringing Truman Medical Center on as an active and collaborative partner of the Masonic Cancer Alliance, the cancer center's outreach arm.
"Truman is a fixture in the community and it was imperative that we work with Kansas City's primary public hospital," Hall says.
When news broke in 2012 that The University of Kansas Cancer Center had received NCI designation – 1 of only 71 centers in the United States to have such a designation – Hall recalls being "pleasantly surprised."
"I don't think any of us expected it to happen as quickly as it did. It's a tribute to a lot of people," Hall says.
The journey to NCI designation was not without obstacles. According to Hall, each of these was met head-on, with Dr. Jensen at the helm.
"He never quit," Hall says. "The most important function of the Foundation is to find the right people and invest in them. He was the right person, and he assembled the right team."
The next chapter
Last summer, in addition to the cancer center's NCI renewal, Children's Mercy became an official recognized member of the Consortium, joining existing partner Stowers Institute for Medical Research.
The Hall Foundation is among a group of donors that are funding 4 first-of-their-kind endowed chair positions that will share appointments at both The University of Kansas Cancer Center and Children's Mercy. The endowed chair positions focus on genomics, health outcomes, hematological malignancies and immunotherapy. These positions help to further integrate pediatric research efforts while providing enhanced clinical care for children.
Assembling the top research entities in Kansas City to create one powerhouse has helped position the region as a burgeoning biomedical hub. The Hall Foundation has been a driving force for the cancer center's success, but for the community as well.
"We've created a triangle: The University of Kansas Cancer Center, Stowers and Children's Mercy," Hall says. "What's happening between these three institutions is incredible, and it's positioning our city to become an even more significant player in the biomedical field."
Please consider making a donation to The University of Kansas Cancer Center today. Every gift – no matter the size – helps us prevent, treat, and cure cancer. Your support moves us further down the path to discoveries that will end cancer.
Visit kuendowment.org/cancer to make a gift online, or contact KU Endowment, for more information at 913-562-2721.
Help us do more.
By supporting The University of Kansas Cancer Center, you help us reach more people and save more lives. Give to research or patient care.
Related links