Skip Navigation
Building Diversity in Clinical Trials
Building Diversity in Clinical Trials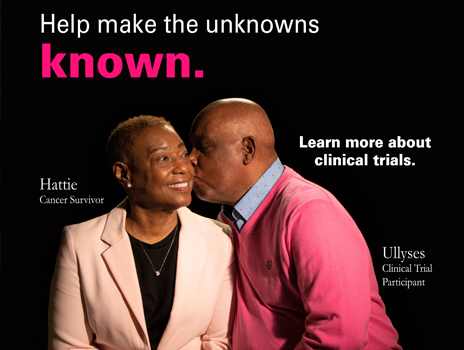 In 2020, the U.S. Food and Drug Administration approved 18 new oncology drugs. Of the people who participated in those studies, 75% were white, 14% were Asian, 6% were Hispanic and 5% were Black.
Lack of diversity among clinical trial participants contributes to health inequities. It also limits our ability to generalize research findings. A robust and diverse clinical trial population helps ensure that new approved treatments are safe and effective for everyone who needs them.
Community outreach and engagement are fundamental parts of The University of Kansas Cancer Center's National Cancer Institute comprehensive designation. The cancer center and its outreach network, Masonic Cancer Alliance, partnered with local minority-owned, multilingual marketing agency Tico Productions, LLC, to launch an education and awareness campaign that encourages clinical trial participation in underrepresented patient groups across the region. The team sought to remove barriers and dispel the myths driving low enrollment to clinical trials in Kansas City communities. Tico's founder and president, CiCi Rojas, is a two-time cancer survivor and participated in a clinical trial.
"Our team was proud to partner with the incredible team at The University of Kansas Cancer Center to create and deliver a campaign that was authentic and culturally relevant to underrepresented communities," she says. "We are passionate about communicating important information and creating greater awareness of the resources available that produce better outcomes for diverse communities."
This campaign is just the start. We must continue to increase public awareness about the importance of clinical trials and advance our efforts to reduce the access and enrollment gaps in cancer clinical trials. Ronald Chen, MD, MPH

Chair of Radiation Oncology at the University of Kansas Medical Center and Associate Director for Health Equity at KU Cancer Center
Creating a Culturally Relevant Campaign
Findings from a community survey and multiple focus groups helped guide the team's efforts. Participants shared that their healthcare providers had never explained the value of participating in a clinical trial. Many also described a lack of trust in the healthcare system. However, about 63% of participants had a positive attitude towards clinical trials. These conversations guided the development of a culturally relevant, bilingual campaign featuring people from racial and ethnic minorities and other underserved populations. All of them had cancer experiences – either as survivors or co-survivors.
Through video and social media, participants shared their stories. Viewers are directed to a website to learn more about the value of clinical trials, as well as to view available accruing studies at the cancer center. Local community leaders partnered with a Kansas City Latina artist to create a mural on the Guadalupe Centers campus. Overall, the goal was to increase awareness and understanding of clinical research while building trust.
According to Ronald Chen, MD, MPH, chair of radiation oncology at the University of Kansas Medical Center and associate director for health equity at the cancer center, the campaign is just one part of a multifaceted approach to continue diversifying clinical trial participation.
"Work from this campaign, including feedback from our community, helped us realize that underrepresentation of racial and ethnic minority cancer patients in clinical trials is not only a national problem, but a major need here in our region," Dr. Chen says. "This campaign is just the start. We must continue to increase public awareness about the importance of clinical trials and advance our efforts to reduce the access and enrollment gaps in cancer clinical trials."
Clinical Trials: Why Diversity Matters
Related links
Learn more at KUCancerCenter.org/YourVoice