Skip Navigation
Cancer Center Earns Prestigious Status
Cancer Center Earns Prestigious Status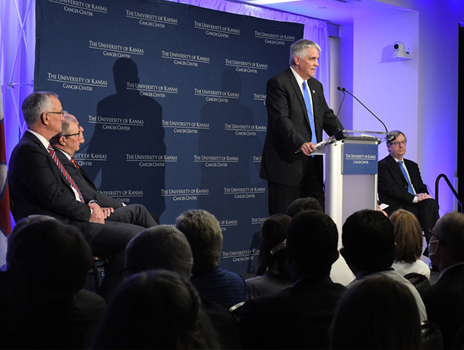 In July 2022, The University of Kansas Cancer Center was designated a comprehensive cancer center by the National Cancer Institute (NCI), the highest honor bestowed by the institute. This designation puts the cancer center in the same league as the nation's most elite cancer centers. In addition to comprehensive status, the cancer center was awarded a five-year, $13.8 million grant and received an "outstanding" rating by NCI reviewers.
Why Comprehensive Designation Matters
The NCI Cancer Centers Program is the backbone of the nation's cancer research effort. Most advances in cancer treatment are the result of research conducted at the 71 designated cancer centers. Designated comprehensive cancer centers are "recognized for their leadership and resources, in addition to demonstrating an added depth and breadth of research, as well as substantial transdisciplinary research that bridges these scientific areas," according to the NCI.
With this designation comes grant funding for vital research infrastructure and shared resources, leading to a better understanding of how to treat and prevent cancer more effectively. The additional funding also helps the cancer center, as well as our consortium partners Stowers Institute for Medical Research and Children's Mercy, grow our team of internationally renowned researchers and physician-scientists.
A Landmark Achievement
The University of Kansas Cancer Center achieved NCI comprehensive cancer center designation in 2022. Thank you to everyone who supported us along the way!
A Conversation with Dr. Jensen
Roy Jensen, MD, director of The University of Kansas Cancer Center since 2004, shares why the NCI comprehensive designation is so important to the region.
What does comprehensive designation mean for people with cancer?
As one of just 53 NCI-designated comprehensive cancer centers in the nation, it means patients will be cared for by the world's leading cancer experts who have access to a robust portfolio of clinical trials.
How has the cancer center changed over the years?
We have come a long way since first announcing our intent to pursue NCI designation in 2004. When we first started out, our staff, not including faculty, stood at a grand total of just 10 people. Today, we have over 250 support staff, including an ever-expanding team at the cancer center's Clinical Trials Office.
In 2004, The University of Kansas Cancer Center received about $14 million in total cancer-related research funding. In 2022, funding exceeded $80 million. In 2004, we were treating about 1,700 patients a year. Now, we treat about 6,500 patients.
Before our NCI designation, about 15% of Kansans diagnosed with cancer left the state for treatment. The burden of traveling and being away from your family – while going through a life-changing diagnosis – was just unacceptable. Today, fewer than 7% of Kansans with cancer opt to leave the state for treatment.
One element of comprehensive designation is developing the next generation of cancer researchers and clinicians. Why is this important?
Creating opportunities for education, training and career advancement for our cancer workforce, as well as for the next generation, is one of our highest priorities. It's also important to us that these opportunities are available to people from all groups. Some racial, ethnic and geographically isolated groups experience a disproportionate burden of cancer and are underrepresented in the cancer workforce. To help address cancer health disparities, our workforce must reflect the patient population. Programs like Accelerate Cancer Education (ACE), which introduces minority and underserved high school students to careers in oncology, help support our vision.
Why should patients care about comprehensive designation?
One in two men and one in three women will be diagnosed with cancer in their lifetime. Comprehensive designation opens the door to more funding, more clinical trials, more research and more experts. And the numbers speak for themselves: Patients treated at an NCI-designated cancer center have a 25% greater chance of survival than people treated at other cancer centers.
What's next?
We are planning for a new cancer research building, a 21st-century facility that will unite people across all scientific disciplines under one roof, serving as the cradle for rich, transdisciplinary science. With a new cancer research building and our NCI comprehensive designation, we can attract and retain the best and brightest minds in science. This team of experts can develop more lifesaving treatments and prevent more cancers, leading to healthier communities and a stronger regional biomedical workforce.
See photos from our NCI comprehensive celebration
Click here to view the photo albums.
By the Numbers
350 researchers and clinicians, which is unmatched by any other cancer program in the region
150+ disease-specific oncologists
25% greater chance of survival for patients treated at NCI centers
370+ clinical trials managed at a time
34,100 people enrolled in clinical trials since 2010
$2.3 billion contributed to the regional economy due to our research
Then & Now
2004: $14 million in total cancer-related research funding
2022: $86 million-plus in total cancer-related research funding

2004: 1,700 patients treated
2022: 6,500 patients treated

2004: 10 staff members
2022: 250+ staff members
Related links