Skip Navigation
Proton Therapy: An Innovative Weapon Against Cancer
Proton Therapy: An Innovative Weapon Against Cancer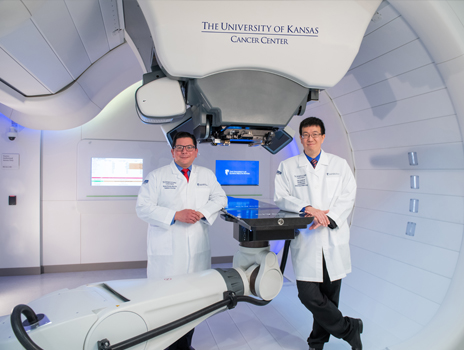 Since opening in April 2022, the Proton Therapy Center at The University of Kanas Cancer Center has brought renewed hope and lifesaving treatment to cancer patients in Kansas City, the state of Kansas and across the region. It is the first proton center in our region and the only one of its kind in the surrounding states of Iowa, Nebraska, Colorado and Arkansas.
Proton beam therapy is an advanced and targeted form of radiation treatment that precisely delivers a beam of protons to destroy tumor cells. It is used to treat cancerous and some noncancerous tumors and is available only at 39 proton centers nationwide.
"It's very exciting to be able to offer this highly specialized treatment to our patients in Kansas City and throughout the region," says Ronny Rotondo, MD, medical director of the proton center. "Until now, patients have had to disrupt their lives and their families and travel out of state to receive this leading-edge therapy. That is no longer the case because they can now receive it close to home."
The University of Kansas Health System announced the multimillion-dollar endeavor to establish the region's first proton center in February 2019, with construction starting in 2020. The highly technical construction process, including installation of the state-of-the-art proton system with pencil beam scanning, was completed in early 2022, and the first patients began treatment at the end of May.
Patients at the proton center are in the hands of leaders in the field of proton therapy, according to Ronald Chen, MD, MPH, chair of radiation oncology at the University of Kansas Medical Center and associate director for health equity at the cancer center.
"We have a powerhouse team of internationally renowned proton experts who understand the complexities of this type of cancer treatment and will ensure our patients receive top-of-the-line care," says Dr. Chen. "Cancer treatment is not just about having the latest equipment, it's also about having world-class experts to recommend and provide the best treatment for patients."
In addition to patient care, proton therapy has also been incorporated into the cancer center's clinical research programs. The University of Kansas Cancer Center is part of the Proton Collaborative Group, NRG Oncology and other national/international groups to offer the latest clinical trials as additional options for our cancer patients. Experts at the cancer center also lead several of these national clinical trials that help to continue to advance cancer treatment.
Until now, patients have had to disrupt their lives and their families and travel out of state to receive this leading-edge therapy. That is no longer the case because they can now receive it close to home. Dr. Ronny Rotondo, medical director of the proton center
The Proton Therapy Center: By the Numbers
By the end of 2022:
2,315 proton treatments were administered
92 patients completed proton treatment 211 potential patients were being evaluated for treatment
Of the patients treated:
24 were under age 30
34 came from outside the Kansas City area
96% were on a clinical trial (goal is 100%)
Proton Therapy Center Tour
Related links