Skip Navigation
Next-Gen Researchers in Training
Next-Gen Researchers in Training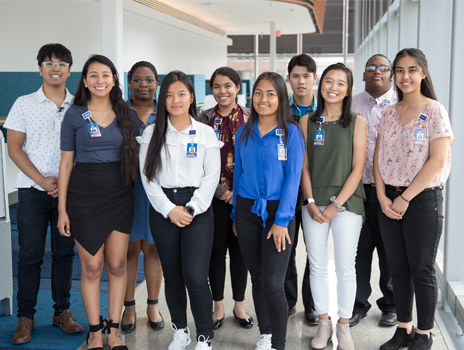 The University of Kansas Cancer Center's Accelerate Cancer Education (ACE) program is a summer research program designed for high school students living in Wyandotte County. The cancer center launched the program in 2018 in collaboration with the University of Kansas Medical Center's Health Careers Pathways Programs and the NIH-funded Kansas Idea Network of Biomedical Research Excellence (K-INBRE) program. To date, 44 students have participated.
Julie Gonzalez-Morales participated in the program in 2019, and afterward, took part in the Summer Training in Academic Research (STAR) Children's Mercy program. In 2021, she worked in the lab of cancer center member Steven Soper, PhD. Now, Julie is a senior at Wichita State University. She plans to be a biomedical engineer developing devices and software for underserved communities. She also intends to apply to a physician's assistant program. Below, Julie discusses what she gained from the ACE program.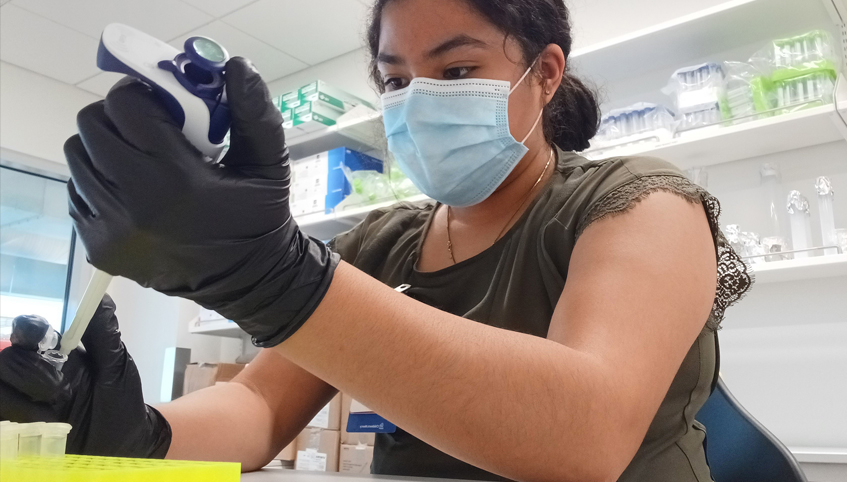 How did the ACE experience shape your career aspirations?
ACE gave me a new perspective on what a medical professional should incorporate in their career, and that includes staying on top of research and lifelong learning. Research is the gateway and foundation to new knowledge, and in turn, new treatments, therapies and drugs. Research sparked my curiosity, and thus I have continued to take part in it throughout my undergraduate studies.
Through K-INBRE and the McNair Scholars program I have continued to do undergraduate research in the Mechanobiology and Biomedicine lab at Wichita State university and helped in developing a digital twin of a cell through machine learning. Looking back, I realize that without that initial exposure that ACE gave me, I might not have even considered research. Research isn't an easy feat. It can be intimidating, and sometimes you feel like you don't know what you're doing…but that's research!
If it's one thing research has taught me, it is to be flexible, persistent and patient. The purpose of research is to learn, discover, share and apply those learnings to something bigger. I am grateful for the ACE experience for letting me learn that early on before I even started my undergraduate studies. Because of ACE and other research opportunities I have had, I plan to incorporate and stay with research in some capacity as a physician's assistant.
Can you give an example of an ACE activity that was particularly memorable?
The ACE experience was very memorable for me and impactful in many ways. As a minority student, it gave me a space to learn and grow that I otherwise might not have had access to. It was definitely intimidating because of the amount of knowledge that you're required to learn.
I recall being surprised when I learned that only mothers pass on their mitochondrial DNA to their children. So, my research question was, could the mitochondrial DNA tell us something in terms of breast cancer susceptibility? I didn't know, I barely knew what mitochondrial DNA was! It was a steep learning curve but I enjoyed the process of gaining more knowledge and learning to be more comfortable with getting unexpected results. Because from those results, I obtained a marker for what I should expect.
Another memorable event was the very first time I had the opportunity to do a research poster and present at the symposium. I cherished working with Dr. Danny Welch, Carolyn Vivian and Dr. Lisa Harlan-Williams throughout the summer. It was an empowering learning experience and I made great connections from it.
What would you say to students considering the ACE program?
Go for it! It doesn't hurt to try because at least you'll know early on if research is a right fit for you. It's an amazing experience that led me to learn about a certain research topic. It also led me to discover more about my abilities and what I could do in a lab setting. With this experience I learned the importance of curiosity, collaboration and determination. These skills have helped me in the classroom and built qualities and characteristics that I use every day.
Related links